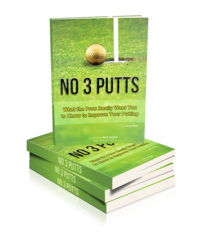 "The initial demand for No 3 Putts has been very high ..." - Brian Schwartz, Publisher
Fort Collins, Colorado (PRWEB) May 30, 2012
David Perry, author of the new golf book, "No 3 Putts", reports that early orders, reviews and customer feedback have been very positive. The full title of the book is "No 3 Putts: What the Pros Want You to Know to Improve Your Putting". The first printing is sold out and the book is in its second printing to meet demand and orders.
According to Perry, "It is nice to have everyone respond so well to the book, which is intended to raise the awareness and understanding of putting to help golfers improve thier scores and in the process, increase enjoyment and reduce playing time due to fewer putts".
According to the publisher, "The initial demand of "No 3 Putts" has been very high… in fact higher than most of our other 50 Interviews titles. The reviews have been positive and reaffirms the author's commitment to the topic. David's carefully chosen experts are well respected in the field and helped build lots of buzz for No 3 Putts. I know David will do extremely well with No 3 Putts and I'm grateful for the opportunity to be his publisher." –Brian Schwartz, Publisher, 50 Interviews Inc.
Carol Preisinger states "What a great job you did on the book! Great work" - Carol Preisinger, LPGA Director of Instruction, Kiawah Island Club.
The book is available on the No 3 Putts website as well as on Amazon and the early reviews average ~4.1 stars. The reviews can be seen on the book review page on amazon.
No 3 Putts is dedicated to raising the awareness of putting to help golfers of all skill levels to improve thier putting, increase enjoyment of the game and reduce playing time by decreasing the number of putts, according to the author.