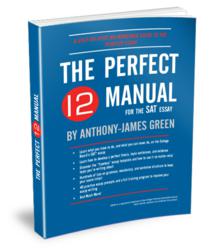 This essay is just a game - if you know how to play it, you'll get a great score. If not, no level of writing skill can possibly help you.
New York, New York (PRWEB) May 30, 2012
For many students, the SAT Essay is the most terrifying portion of an already daunting exam. Students and parents alike are unsure of how the essay is graded, what it means for their scores, and how they can get the "perfect 12" necessary to maximize their SAT Writing score. Test Prep Authority, a free SAT and ACT practice resource founded by renowned SAT expert Anthony-James Green, hopes to change all that by offering students and parents a free overall guide to the SAT Essay on their new site.
"I think that the SAT Essay might be the least understood entity in the history of standardized testing," said Green, who has taught thousands of students how to improve their essay scores. "People think that it has something to do with their innate writing ability - nothing could be further from the truth. Getting a perfect 12 is all about understanding how to game the system, then gaming the living heck out of it."
Green, who has sold nearly 1,000 copies of his book, The Perfect 12 Manual for the SAT Essay, encourages students to learn more about the basic grading system used by the College Board. When they do so, he claims, they will immediately improve their scores and stop making the mistakes that routinely prevent them from getting the best SAT Essay scores possible.
"If you want to write a good SAT Essay, you only need to understand a couple of things. Firstly, this thing is graded by subtraction, not addition. Students try to "gain points," when in fact they can't do so in the first place. Secondly, the essay is graded almost purely on structure. When you understand the structure that the graders are looking for, you don't lose points. Finally, you need to understand the necessary elements required, and you need to know where to put them."
Students and parents interested in learning more about how to perfect their SAT Essay performance can do so for free by visiting Test Prep Authority's new SAT Essay guide using the following link:
http://www.testprepauthority.com/SAT-essay-guide/
"It's my hope that Test Prep Authority will teach more people the basics. Students can improve their SAT scores by hundreds of points if they pick up the most important testing strategies, and my site was built specifically to teach those things."
Students and parents who visit Test Prep Authority can also sign up for the site's new Test Prep Method, an email-delivered, step-by-step action guideline for improving SAT and ACT scores by visiting Test Prep Authority's main site.
Test Prep Authority was founded by Anthony-James Green, widely regarded as one of the country's best SAT tutors, and author of multiple books on the subject of test prep, including Own the SAT, Every College Question Answered, The Perfect 12 Manual to the SAT Essay, and How to Take a Standardized Test.
Green lives in downtown Manhattan, where he works on Test Prep Authority full time when not tutoring his personal clients.
###