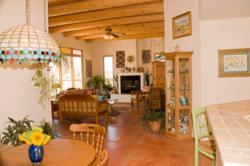 Energy saving LEED certified homes are now available for around the same prices as conventional custom homes built today.
Santa Fe, NM (PRWEB) May 30, 2012
With the lull in the real estate market starting in 2007, and the resulting flood of inventory forced on the market, new home sales "dried up" as construction came to a screeching halt. Some of these bank owned properties forced on the market are selling for less then they cost to built, but there is one great exception, certified energy efficient homes.
Thanks to the technological breakthroughs supported by the American Recovery and Reinvestment Act (ARRA) federally certified LEED (Leadership in Energy and Environmental Design) homes are now available for around the same prices as conventional custom homes built today. New Mexico also has a similar statewide certification program called Build Green New Mexico (BGNM). Renaissance Builders of Santa Fe builds BGNM certified homes starting at under $300,000 including the lot and they come with sizable State and Federal tax credits. They not only provide permanent savings on energy costs but, offer healthy indoor air quality and reduced water consumption.
Natural Homes is a marketing group within Logic Real Estate and represent Renaissance Builders in Santa Fe, specializing in marketing and design of certified solar homes up to Zero Energy Homes or homes with net annual utility costs of around zero. There may be a lot of conventional homes on the market but there are almost no Zero Energy Homes available today. For that reason Natural Homes and Renaissance Builders have 5 new homes either under construction or in the approval process already this year. These homes range from 1,000 sq ft to 2,200 sq ft and come complete with tall ceilings with vigas, stone counter tops, solid wood doors and a two-car garage. Renaissance Builders has perfected the delivery of these homes at a price point at or below the cost of conventional costume homes but include super insulating envelope, Heat Exchanging Ventilation, efficient lighting and appliances and solar electric panels on the roof.
As the first local construction company to offered attainable certified BGNM homes, Renaissance Builders and it's marketer Natural Homes has two magazine articles written about them as well a blogs and forums coming out this month. In the June edition of Green Fire Times, there is an article written by Alan Hoffman of Natural Homes describing the difference between BGNM certified solar homes and conventional homes. Then, in the new addition of Eco Source Trend magazine, the eco version of Trend Magazine Santa Fe's premier design and arts magazine, there is a two-page spread featuring the Zero Energy Home breakthrough.
For information about BGNM certified homes and to get a tour of these homes complete and under construction, contact Alan Hoffman at 505 316 0449 and go to NewVillage.com to see plans and pricing.