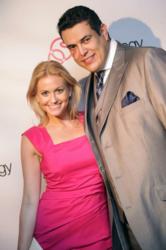 Know Your Risk, Save a Life- Guard A Heart Foundation
Beverly Hills, CA (PRWEB) May 30, 2012
The HOME Foundation proudly supported the Guard A Heart Foundation at their Purses From The Heart event last Thursday May 24th at the luxurious SLS Hotel in Beverly Hills. The Guard A Heart Foundation is a non-profit organization dedicated to raising awareness about heart disease. Frankie Verdugo, President of The HOME Foundation, when asked about the Purses From The Heart Event said, "It was great to see a good turn out and that all the ladies supported the cause by doing what they do best, shopping for designer handbags, and doing it for a good cause."
The line up of designer handbags for auction was incredible, everything from Gucci, Louis Vuitton, Chanel, and Manolo Blahhik. All of the money raised from the auction went to the Guard a Heart Foundation. This celebrity-filled event that took place in the trendy SLS Hotel included a three-hour open bar sponsored by Blue Ice Vodka, gourmet appetizers hosted by Salt Creek Grille Catering and swoon-worthy desserts by Sugar, Sugar! Candy Buffets. There were special guest performances, runway shows, and a live auction of designer purses, all hosted by Elite Fashion Academy Los Angeles.
The HOME Foundation
Frankie Verdugo
855-288-HOME (4663)
info (at) HOMEFoundationRaffle (dot) com
http://www.HOMEFoundationRaffle.com
Guard A Heart Foundation
Jeff Astegen
888-658-5937
Info (at) GuardAHeart (dot) org
GuardAHeart.org
"The H.O.M.E. Foundation Proudly Supports Guard A Heart"
About The H.O.M.E. Foundation:
The Helping Others Means Everything, or The H.O.M.E. Foundation, is a not-for-profit organization dedicated to helping our Family of Charities. Frankie Verdugo, President of The HOME Foundation, wants to help as many worthy charities as possible as they struggle during these tough economic times. Frankie Verdugo helps raise funds through luxury dream home raffles, home giveaways, prizes, and high profile celebrity events in Hollywood... "Our mission is to help charities reach their fundraising goals and to bring awareness to their praiseworthy causes." Please visit our 2012 Dream Home Raffle Giveaway at: http://www.HOMEFoundationRaffle.com and http://www.facebook.com/HOMEFoundationRaffle.