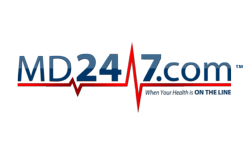 Visit our website!
Tampa Florida (PRWEB) May 30, 2012
MD247 Founder Thomas Meehan announced a new "Deal of the Day" on Tuesday, using the Facebook "offers" program to make the supplemental telemedicine healthcare system available to new program members at a 50% discount for life. The newest "Deal of the Day" is available May 30, 2012 through June 08, 2012, and can only be redeemed using information attained on the MD247 Facebook business page.
To secure the MD247 "Deal of the Day" at 50% off for life, anyone who is interested must visit the MD247 telemedicine Facebook business page at http://www.facebook.com/md247dotcom. This MD247 telemedicine "Deal of the Day" will ONLY be available until June 08, 2012. After the 50% off for life "Deal of the Day" expires, it is suggested that people with an interest in telemedicine visit the Facebook page frequently to verify what "Deal of the Day" MD247 is offering at that time.
The MD247 telemedicine program provides people the opportunity to have a supplementary doctor available to all members of a household through the use of telemedicine technology. Fees associated with MD247 telemedicine medical visits are steeply discounted when compared to comparable Urgent Care visits, for non-emergency medical situations. In addition to discounted non-emergency medical appointments, the MD247 telemedicine program also includes pharmacy discounts and program members have the opportunity to receive discounts on veterinary services.
MD247 Founder Thomas Meehan explains that "the MD247 telemedicine staff works diligently to provide families every supplemental medical service they could need."
Largo Florida based MD247.COM (MD247; MD/247; MD 247; M.D.247; MD-247) provides an affordable telemedicine supplement to existing healthcare services. MD247.COM telemedicine program members have unlimited telephone access to a nationwide medical support team, all with just a single phone call to the MD247.COM telemedicine Talk to a Doctor/Talk to a Nurse Hotline. MD247.COM has a virtual platoon of registered nurses; board certified physicians and a support staff available to members for all non-emergency situations. More information about MD247.COM is available online at http://www.md247.com.