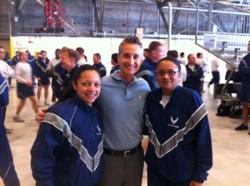 We can't overstate the stress faced by our military personnel
Los Angeles, CA (PRWEB) May 30, 2012
Joint Base Lewis-McChord (http://www.62aw.af.mil), a United States military facility, recently hosted motivational speaker Scott Greenberg to conduct an inspirational seminar for "Wingman Day" at the combined Army/Air Force base located just south of Tacoma, Washington. The seminar, attended by over 1,500 Air Force personnel, took place on Friday, May 18, 2012 in Hangar 4 on the base. Greenberg's talk focused on resilience and overcoming adversity was entitled "Survival of the Finest: Thriving During Times of Change & Adversity."
Motivational Speaker Scott Greenberg's presentation followed those of 62nd Airlift Wing Commander Colonel R. Wyn Elder and a Washington State Trooper. The Colonel set a tone for the day and talked about the increase in DUI's and suicides that are currently afflicting Air Force personnel, while the state trooper spoke specifically on drunk driving. Greenberg's presentation focused on resilience and overcoming adversity which stemmed from his personal battle with cancer. His story was part of the reason the JBLM Deputy Commander and 627th Air Base Group Colonel Valerie Hasberry and Lieutenant Chaola Harris, chose Greenberg to speak to their fellow service members.
"We can't overstate the stress faced by our military personnel," says Motivational Speaker Scott Greenberg. "It's important to take time to acknowledge the mental and emotional challenges of military service and equip Airmen with coping skills." Though a civilian, Greenberg connected his battle with cancer to the adversity faced by military service members. He discussed how he made a concerted effort to master his internal thoughts in order to change his external behaviors and actions.
Scott Greenberg travels around the world to businesses, government agencies, schools, and youth presenting motivational keynotes, workshops and seminars on how to develop personal resilience, confidence, and solid interpersonal skills to achieve peak performance.
About Scott Greenberg
Greenberg is a motivational speaker specializing in resilience, peak performance, and emotional intelligence. His personal battle with cancer and inspiration from his "Schindler's List" holocaust surviving Grandmother are the basis for some of his motivational stories. Since 1993, Scott has spoken to a variety of organizations looking to improve their leadership, customer service and work environment. Clients include Nike, The Wyndham Hotel Group, Cargill International, the United Nations and the U.S. Department of the Interior. Scott has written three books on leadership and is a contributing author to "Chicken Soup for the College Soul." For more information about Scott Greenberg, visit http://www.scottgreenberg.com or call 1-800-450-0432 (or outside the U.S. 1-818-785-5202).