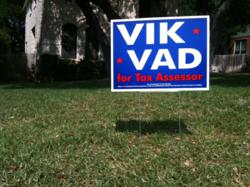 "Our message of limited government, increased privacy, and fiscal responsibility is really resonating with voters on both sides of the aisle."
Austin, Texas (PRWEB) May 30, 2012
As the dust settles on the Texas primaries, Travis County Tax Assessor candidate, Vik Vad, emerged as the winner of the GOP nomination. With 26,521 votes in the primary, Vad looks ahead to the general election match-up with Democratic opponent Bruce Elfant. The primary election was postponed from an original date in early March, due to redistricting issues in Texas. Coming right on the heels of a municipal election, and, because of the timing right after Memorial Day weekend, turnout for the primary was less than expected.
In November, Travis county voters will decide which candidate to elect to become the next County Tax Assessor, a position vacated by the retirement of longtime officeholder Nelda Wells Spears. Since 2012 is a presidential election year, voter turnout is expected to be high in the general election, so both camps are working hard to get their messages across to voters.
"Our message of limited government, increased privacy, and fiscal responsibility is really resonating with voters on both sides of the aisle," says Vad. "Austinites realize the importance the tax office plays in collecting and distributing funds to various municipalities and school districts throughout the county". In addition to collecting property taxes, the Tax Assessor's office also handles voter registration and motor vehicle titling.
Vik Vad has been meeting with constituents to fully understand what matters most to them. "What I've been hearing is that people are concerned about government waste and ease of interaction with the tax office," says Vad. "We plan on upgrading the e-governance services, while instituting privacy protections for our citizens, a hot-button topic which appeals to the public at-large".
Vad's campaign is dedicated to making all interactions with the Tax Office as painless as possible for Travis County residents, with the end goal of modernizing processes in the office to allow people to conduct business digitally. Vad also wants to work with delinquent taxpayers to set up payment plans in a compassionate, yet disciplined way.
Although the Tax Assessor's office doesn't set property tax rates, the office is responsible for overseeing annual tax receipts of almost $2.4 billion. "With that much tax revenue to oversee, it is essential that the person elected to lead the office has the experience and management skills necessary to make wise decisions," says Vad. "If Travis County voters give me the opportunity to serve as their Tax Assessor this Fall, I will work diligently to ensure they are satisfied".
For more information on the Vik Vad for Texas campaign, visit the campaign website, or Facebook fan page.