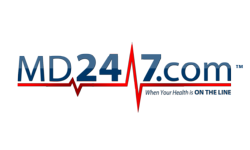 MD247 Adds Spanish Speaking Staff.
Tampa, Florida (PRWEB) May 30, 2012
MD247 announced a new initiative to make telemedicine information and services available to Spanish speaking United States citizens on Wednesday.
The project described by MD247 Vice President of Business Development Amy Walters was designed to open telemedicine to a population previously locked out of the services due to language barriers. Walters explained, "The telemedicine services that MD247 provides were never meant to be just for one type of patient in need of medical services."
MD247 considers the necessity to make telemedicine available to a Spanish speaking population a "no-brainer," because an estimated 35.5 million residents of the United States speak Spanish. Ensuring that EVERY person considering telemedicine fully understands the program serves as a component in the MD247 improvement in Customer Care policies previously detailed.
The MD247 telemedicine program provides families, individuals and entire unmatched households the opportunity to have a supplementary doctor available to all members of the household through the use of telemedicine. Fees associated with MD247 telemedicine medical visits are steeply discounted when compared to comparable Urgent Care visits, for non-emergency medical visits. In addition to discounted non-emergency medical appointments, the MD247 telemedicine program also includes pharmacy discounts and program members have the opportunity to receive discounts on veterinary services.
MD247 Vice President of Business Development Amy Walters explains that "MD247 works to provide an entire household every medical service that they could need in a year. Language should never be a roadblock to supplemental healthcare."
Largo Florida based MD247.COM (MD247; MD/247; MD 247; M.D.247; MD-247) provides an affordable telemedicine supplement to existing healthcare services. MD247.COM telemedicine program members have unlimited telephone access to a nationwide medical support team, all with just a single phone call to the MD247.COM telemedicine Talk to a Doctor/Talk to a Nurse Hotline. MD247.COM has a virtual platoon of registered nurses; board certified physicians and a support staff available to members for all non-emergency situations. More information about MD247.COM is available online at http://www.md247.com.