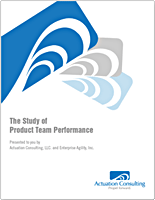 The most surprising thing we found was that there are 5 statistically significant factors differentiating high performance product teams and each has a major impact on overall team performance.
Greg Geracie, Founder & CEO, Actuation Consulting
Santa Clara, CA (PRWEB) May 30, 2012
Accept Software, Actuation Consulting and Enterprise Agility, partnering to modernize product planning and management for global companies, today announce the availability of the "first-of-its-kind" white paper The Study of Product Team Performance.
The goal of the research was to better understand the dynamics of product team performance and uncover the practices that make product teams successful. A wide range of product team members including Product and Project Managers, Program Managers, Business Analysts, and Engineers participated in this study and the majority (95%) said they played an active role in creating or enhancing products or services.
"This study illuminates some of the factors that many product organizations have overlooked or forgotten in their quest to get products out faster. It showed us what we suspected all along, that product organizations need to re-think their practices and solutions to compete in a complex, ever-changing world."
– John Hamm, CEO Accept Software
There are many revelations in this white paper. One of the most controversial and surprising is the lack of adoption of Agile methods within large organizations over $500 million, which flies in the face of the Agile "hype". It's also not a key factor in product team success or outcomes.
Click here to purchase your PDF copy for $19.95 USD of this important white paper study.
About:
Actuation Consulting
Actuation Consulting is a provider of product management training courses and advisory services to some of the nation's most well known organizations. Greg Geracie is available to speak on the subject of product team performance and modernizing both team's practices and processes and the solutions they utilize.
Accept Software
Accept Software's collaborative approach gives companies with complex product planning challenges a modern solution for aligning their products to the best market opportunities.
Download The Case for Modernizing Product Planning or call +1.866.423.8376.
Copyright © 2003-2012 Accept Software. Accept360. All rights reserved.