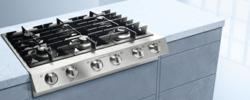 (PRWEB) May 31, 2012
Viking Appliances started out producing luxury products. Viking now provides a line of efficient and reliable appliances at more affordable prices through a Designer Series. The Professional Series is the most luxurious product line. The Commercial Series is targeted specifically at restaurants and catering professionals. In May 2011 Viking was the first company to introduce a three year warranty on the Professional Series products. The cooking range features stand-alone ranges, range tops and cook tops. Viking also produces ovens, microwaves and warming drawers. The kitchen range includes built-in and free-standing refrigerators, freezers and ice machines. Dishwashers and garbage disposers are also available.
The Oven Repair Company technicians have many years of experience in repairs and services for all kitchen appliances. Viking Authorized Repair will thoroughly examine the refrigerator that is in need of repair and replace all parts that are defective, worn and broken. The Oven Repair Company will repair all types of refrigerators from free-standing, built-in, side-by-side, bottom full width freezers all Viking™ refrigerators and even the high end refrigerators with plasma TV installed.
When the kitchen refrigerator stops working, wine cooler, garbage disposal, gas stove or dryer breaks down or needs routine services, The Oven Repair Company provides same day refrigerator repair service and inspection for all you major kitchen appliance.
The Oven Repair Company a premiere oven repair and service provider is offering big discounts on Viking Stove and Range Repair throughout the month of June.
Visit the website at http://www.ovenrepair.us