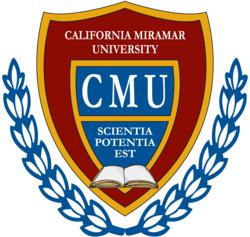 Graduates of these programs will learn how to transform their marketing strategies and propel their businesses in the most cost-efficient way.
San Diego, CA (PRWEB) May 30, 2012
The California Miramar University (CalMU) Extension is proud to announce its partnership with the most popular leaders in today's hottest emerging industries. Among the new courses offered is Dan Hollings' Zero Cost Marketing Secrets' training program.
Dan Hollings is best known as an internet and mobile marketing expert with clients ranging from the hit movie "The Secret" to small local businesses. Dan and his company BridgeGAP Marketing, Inc. have partnered with CalMU Extension to offer courses and designation programs in mobile, social, and internet marketing. Graduates of these programs will learn how to transform their marketing strategies and propel their businesses in the most cost-efficient way.
What exactly is Zero Cost Marketing? Is it even possible to not only cut down marketing cost, but also advertise a business and stay ahead of the competition with no expense at all? The answer is a resounding "Yes", and the CalMU Extension coaching sessions based on Dan Hollings' 'Zero Cost Marketing Secrets' training program will reveal everything to successfully implement this comprehensive program! The course includes hands-on personalized coaching with a focus on tools and strategies of the Zero Cost Marketing Secrets program.
Those not familiar with the 'Zero Cost Marketing Secrets' (ZCMS) training program by Dan Hollings can view his 90 minute ZCMS presentation that changes traditional notions of marketing and opens a new realm of possibilities for businesses.
Next step? The CalMU Extension coaching sessions. These specially designed coaching programs provide hands on guidance in understanding, developing and implementing Dan's specific strategies in internet, social, and mobile marketing. And the money saved on the Zero Cost tools and systems will pay for the coaching!
Participants of Dan Hollings' 'Zero Cost Marketing Secrets' training program will work directly with a California Miramar University marketing coach either one-on-one or in a small 5 to 7 member interactive group. Meeting twice monthly, students will learn how to successfully target the marketing goals, while effectively solving the multitude of problems every marketing professional faces on a daily basis. Students will learn how to put into action the multitude of marketing tools and concepts put forth by Dan in his Zero Cost Marketing Course while the coaches show students the details of how to implement these highly effective internet and mobile marketing strategies and formulas.
Students can choose telephone, Skype or a webinar platform for their private one-on-one or small group sessions. Each one-on-one session is approximately 30 minutes while small group sessions last one hour. All coaching sessions run for a six month renewable term. To earn CalMU Extension certification, students must complete six months of the targeted coaching. The tuition for the training can be paid with an initial $97 deposit followed by monthly payments as the sessions progress.
ZCMS coaching is designed primarily for graduates of the 4-session ZCMS training program. Coaching Hub Central (CHC) members receive a 20% discount off all session tuition fees. Those that choose to prepay the tuition in full will save an extra 5%. To learn how to become a member and to enroll in the 'Zero Cost Marketing Secrets' course, visit the CalMU Extension ZCMS course page.
CalMU also offers a variety of other Extension programs, including courses in Mobile Marketing, Real Estate, Film & Television, Spanish for English Speakers and English for Spanish Speakers, as well as Transcription Certification Training and an Internet Prophets Certificate course.
About CalMU
California Miramar University's School of Business & Management is one of the Top 10 MBA Schools in San Diego, California, ranked by the San Diego Business Journal. In addition to the MBA, CalMU offers a variety of other programs, including a Masters in Strategic Leadership, Masters of Science in Telecommunications Management, Masters of Taxation and Trade for Executives programs, as well as Associate, Bachelor's, and Doctor's degree programs. CalMU also stands out for having the most affordable tuition. With interest free payments many MBA students graduate debt free.
The majority of CalMU's degree programs are eligible for Veterans Affairs benefits, and qualified military spouses are entitled to a substantial discount for the entire degree program.
Contact the Office of Admissions today to learn more and get started.
For more information about this topic or to schedule an interview with California Miramar University, please call 858-653-3000 x12 or email info[at]calmu[dot]edu.