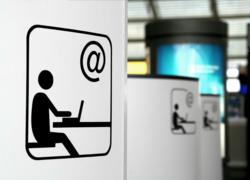 Shut out from the Web? Away from Home, Short- or Long-Term? For Work or Pleasure? Genkiosk – the Kiosk Software – Makes it Easy and Safe to Stay in Touch with the Internet, via Self-Service Kiosks and Wi-Fi Hotspots.
Sheffield, UK (PRWEB) May 31, 2012
The media cliché often paints a world of digital have's and have-not's.
Dividing the population into one part that is almost never offline, and the rest, who are portrayed as irretrievably disconnected. Typically, the border between the two is demarcated along social or geographical fault lines, as if your birth alone predetermines your digital future. Once and for all.
But today that cliché stands up less and less to scrutiny – especially because of Genkiosk, the kiosk software.
Travel the world – into some of the remotest locations from Fiji in the Pacific, to the Americas, via the Middle East – and you will find users from all walks of life logging onto the Internet.
They use self-service kiosks – or Wi-Fi hotspots – controlled by Genkiosk to access email or the web.
And thanks to today's technology, even remote locations are no longer out of reach, as Marek Narkiewicz, Chief Technology Officer at GWD Media, the makers of Genkiosk explains: "The Cloud is changing everything – and Genkiosk is in the Cloud. This makes for fantastic availability, security and reliability. And what made sense in Europe has generated even greater benefits – for operators and end-users – elsewhere. Especially in remote locations. Genkiosk is opening up a whole new world both socially and commercially, whatever the geography."
Genkiosk has seen self-service kiosks growing hugely in popularity over the last few years. Not everywhere, but in certain parts of the world, wherever the commercial proposition makes sense for customers and end-users.
Countries like Qatar and Saudi Arabia, where building booms have attracted a large migrant workforce are seeing particularly strong growth.
The kiosks are simple and fast to use. The availability is high – up to 24 hours a day – and they often remove the need for customers to stand in line or wait for human assistance.
The result for end users: they get what they want - quick and easy. And for the operators of kiosks, there is huge commercial opportunity in servicing this need. But it is not just about business, social benefits also arise from getting the population online – and in touch.
These factors have led to an increase of business – and an extension of focus – for Genkiosk. The kiosk software that started with Internet access has now expanded to include:
Paying bills
Printing photos
Accessing the Internet or information
Transferring money
Browsing and shopping.
And every country has its own specific needs: self-service is just a way of making things quicker and easier.
Long established in North America and Europe, high growth areas in recent years have included the Middle East and the Pacific Rim. Examples include the UAE and the Island of Fiji, where Genkiosk is already well established
Genkiosk, from GWD Media was first developed to run and manage pay-as-you-go Internet kiosks. It has now grown to cover the full range of self-service applications.
After launching in Europe, it expanded first to the Americas, then the Middle East and beyond, going global via multinational customers and now with direct clients as far afield as Fiji in the South Pacific.
Genkiosk Internet software is delivered via the Cloud, maximising service and availability in every region of the world.
VeoVend, the sister of Genkiosk, provides the same monitoring and management services for more traditional vending (snacks, drinks, beverages, retail.) A hardware plug-in, with mobile phone SIM, gives online access to even the most basic vending machine.
GWD Media is headquartered in Sheffield, UK, and operates worldwide.