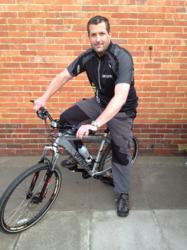 It's not every day you get to cycle in the still of the night with no traffic on the roads.
Birmingham, UK (PRWEB UK) 31 May 2012
Project Manager, Kerry Wells will start his bike ride in London just before midnight on the 29th June and finish in the early hours of the morning of the 30th June in Brighton. Setting off from Alexandra Palace, Wells will pedal through the eerily quiet streets of London past some of the most famous landmarks before breaking out onto the open country roads of Surrey and Sussex, with an aim of seeing the early morning sun over Brighton seafront.
"While I have done some running in the past I have never been a natural runner and have always enjoyed being out on my bike, so a bike ride challenge was always a natural choice for me," says Wells.
"It's not every day you get to cycle in the still of the night with no traffic on the roads; the extra isolation brought by the darkness will make it even more interesting and exciting."
The Moonriders event has been organised by international challenge events organiser, Action Challenge, who have been organising inspirational adventures across the globe since 1997.
"We wish Kerry the best of luck; he has been training extremely hard for this event and has been fitting in his training routine around his work life, waking up early to practice. All of us at Ascom UK are proud to support him," says Hiral Chavda, Marketing Executive for Ascom UK.
For those who are interested in learning more about the event please visit the Moonriders site directly and to sponsor Kerry Wells, please click here.
ABOUT ASCOM WIRELESS SOLUTIONS
Ascom Wireless Solutions (http://www.ascom.com/ws) is a leading provider of on-site wireless communications for key segments such as hospitals, elderly care, independent living, manufacturing industries, secure establishments, retail and hotels. More than 75,000 systems are installed at major companies all over the world. The company offers a broad range of voice and professional messaging solutions, creating value for customers by supporting and optimizing their Mission-Critical processes. The solutions are based on VoWiFi, IP-DECT, nurse call and paging technologies, smartly integrated into existing enterprise systems. The company has subsidiaries in 10 countries and 1,200 employees worldwide. Founded in the 1950s and based in Göteborg, Sweden, Ascom Wireless Solutions is part of the Ascom Group, listed on the Swiss Stock Exchange.
Ascom (UK) Ltd (http://www.ascom.co.uk) is a fully owned subsidiary to the Ascom Group, responsible for marketing and sales in the UK. The company has been providing their solutions to key segments in the UK for more than 50 years and thrive on providing the latest wireless communication technology in the market today.
ABOUT ACTION CHALLENGE
Action Challenge is an international challenge event specialist. Since 1997 they have organised challenge events for charities, corporate groups, schools and private clients all over the world. With tailor-made events and itineraries across all continents, they offer some of the world's best treks, cycling events and tours, multi-sport challenges and community projects.