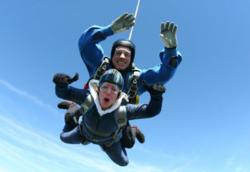 I looked at our Mothers/Fathers Day sales figures and Mothers Day is twice as popular. Poor old dads don't get the recognition they deserve from their children. There's much more sympathy for Mum
(PRWEB UK) 31 May 2012
The British Retail Consortium states that Father's day is worth £300,000,000 less than Mother's day for the retail sector, and that the largest share of money is spent on socks, shirts and ties. Steve Clark of experience day gift company Experience Mad confirms this trend "I looked at our Mothers/Fathers Day sales figures and Mothers Day is twice as popular. Poor old dads don't get the recognition they deserve from their children. There's much more sympathy for Mum"
The difference in average spends on Mother's and Father's day gifts could be linked directly to the quality of parent-child relationships. The Daily Mail reported in March that the average amount of time a father in the UK spends with their children is less than an hour a day. This could well be a contributing factor to the reason children are more extravagant with gifts for their Mothers.
Other reasons may be that creative and indulgent Father's day gift ideas aren't so obvious to offspring. Men are notoriously more difficult to buy gifts for than women. But Steve goes on to explain that this doesn't need to be the case. "There are loads of great gift ideas to show Dad how much he means to the family on Father's Day. Experience gifts are a great idea for bonding with Dad too. Something like a tandem skydive is a great thing to enjoy together and bring father/son or father/daughter closer. Any of the experiences would make a great father's day gift at http://www.experiencemad.co.uk and hopefully this year kids will be a little more generous to Dad"
Father's day is an established day in the UK calendar and with such a diverse range of family dynamics in the UK should be recognised and celebrated more readily in 2012. Kevin Hawkins, Director General of the British Retail Consortium comments "Whilst Dads still don't quite outdo Mums on Mother's Day, Father's Day is becoming a more important day in the UK as it's the perfect opportunity to thank our Dads and show them how much they mean to us"
Whilst trading is difficult for retailers, competition will be fierce and the types of gifts on offer will be more extravagant and expensive in the hope of bringing in much needed trade. Retailers previously not noting father's day in their special offers may well be looking to capitalise on the time of year too. Special Dad pampering days and meal deals could push the retail figures for Father's day 2012 closer to the amount currently spent on Mums.