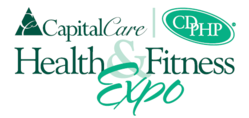 Albany, NY (PRWEB) May 30, 2012
CapitalCare Medical Group and CDPHP® are proud to present the most comprehensive, interactive wellness event in the region. The CapitalCare/CDPHP Health & Fitness Expo offers two days of family-friendly health and fitness activities and information, including:

Massage Therapy
Body Fat Analysis
Body Mass Index
Blood Pressure Checks
Asthma Screening
Diabetes Risk Assessment
Cardiac Risk Assessment
Skin Care Consultations
Chiropractic Services
Fitness Demonstrations
Zumba Workout
The expo will also feature the new CDPHP® InMotionSM fitness tracking mobile application and website. CDPHP InMotion allows users to upload and save workout routines and nutritional information, create and map exercise routes, and share information with friends. And best of all, it's free! Representatives from CDPHP will be on-hand on Friday from 12 to 7 p.m. to help users download and demo the application on their mobile devices.
The CapitalCare/CDPHP Health & Fitness Expo marks the kickoff of the annual Freihofer's Run for Women 5K, one of the world's largest and most prestigious all-female road races. The 34th annual event will feature thousands of women of all ages and abilities who will compete alongside many of the world's greatest long distance champions.
When:
Friday, June 1 from 12 to 7 p.m. & Saturday, June 2 from 8 a.m. to 2 p.m.
Where:
The Empire State Plaza Concourse
Albany, N.Y.
For more information about the CapitalCare/CDPHP Health & Fitness Expo, visit the Freihofer's Run for Women website.
About CDPHP®
Established in 1984 as a physician-founded, member-focused, and community-based not-for-profit health plan, CDPHP and its affiliates are uniquely positioned to serve as a model of quality and health value, offering members in 24 counties throughout New York a full array of innovative products. For more information, visit http://www.cdphp.com.
About CapitalCare Medical Group
CapitalCare Medical Group is an independent, multi-specialty physician practice offering services in family medicine, internal medicine, pediatrics, endocrinology, pulmonary medicine, developmental-behavioral pediatrics, allergy, asthma and immunology, nephrology, diabetes education and medical nutrition therapy. For more information about CapitalCare Medical Group, visit http://www.capcare.com.
# # #