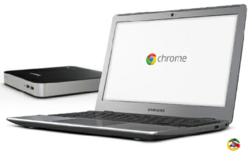 "Google has made the Chromebook a lot more usable from a consumer standpoint," says Michael Gartenberg a Gartner analyst.
UK (PRWEB UK) 31 May 2012
London: Just like its predecessor, the latest Google Chromebook is a fast and portable laptop for everyday use. Chromebooks do not have a hard drive, unlike most computers as they are solely designed for online use. The Chromebooks were never meant to be powerhouses, they function more like terminals dependent on an internet connection, boasting two USB ports to allow external hard drives and other devices to be connected to the machines.
The new Samsung Chromebook Series 5 550 appearance is the same as the Chromebook Series 5 from 2011. The new Chromebook does however, boast several upgrades: the netbook doubles its RAM from 2GB to 4GB alongside a processor upgrade – an Intel Celeron dual-core processor instead of the previous year's Intel Atom processor. On the downside, the new Chromebook has a shorter battery life with just six hours oppose to the previous 8.5 hours. The Chromebox is a mini-PC that also runs the web-centric Google Chrome OS. Like the Chromebook, this desktop PC has an Intel Celeron dual-core processor and 4GB of RAM. The Series 3 Chromebox also offers wireless-N, Gigabit Ethernet, Bluetooth 3.0, DVI, six USB 2.0 ports, and two DisplayPort++ outputs (compatible with HDMI, DVI and VGA).
The minimal adoption of Chromebooks has raised several questions about whether Google misjudged the demand for super-fast online-centred machines. "The Chromebooks have had less to offer than tablets, so they have not been that interesting to consumers," said Mika Kitagawa – Gartner analyst. Then again, with Chrome's recent take over of Internet Explorer as the most used browser and the rollout of Knowledge Graph the demand for Chromebooks may see a sharp increase in coming years.
Speed
These netbooks now have an improved boot-time of seven seconds and should be 2.5 times faster than the previous netbook, an improvement desperately needed. The Chromebox actually enables users to be on a video conference while continuing to play your favourite role-playing game on the side.
Productivity
With the built-in ability to view Microsoft Office files (and dozens of other files), users have access to all content without having to install additional software. The new Google Drive makes it easy to create, store and share with just one click. Drive is seamlessly integrated with the File Manager and will support offline access with the next release of Chrome OS in six weeks. Chrome Remote Desktop Beta enables users to securely connect the Chromebook or Chromebox with a PC or Mac
Always updating
Chromebooks experienced eight updates in 2011, which added major features and hundreds of improvements via Google's auto-update mechanism. It is rumoured that many more updates will go live in 2012.
"Google has made the Chromebook a lot more usable from a consumer standpoint," said Michael Gartenberg a Gartner analyst, who calls the new versions a "pretty big upgrade. It becomes much closer to something that could be used by the mass market. In a world that's being driven by personal cloud services, these become great devices. For a certain user scenario and for certain business cases, this will be a viable choice — certainly more viable than they were last year."
"This release is a big step in the journey to bringing [Chromebooks] to the mainstream," said Sundar Pichai, Google's SVP of Chrome and Apps. Pichai also suggested that several other manufacturers will release Chromebooks in the back end of 2012. Chromebooks are currently available to purchase via a number of online retail partners and on the high street in the growing number of PC World and Curry's stores. This expansion beyond Internet-only sales demonstrates Google's vision to being Chromebooks to the masses, as a consumer product in future years.
AppsCare®, Google Enterprise Premier Partner (powered by Netpremacy Global Services) is a world leader in cloud services provisions, supporting over 2500 customers in 33 countries. Our fortnightly newsletter provides latest industry news, tips and 'how to' features and useful information about cloud computing, to subscribe to our mailing list click here.
http://www.appscare.com
http://www.netpremacy.com
*Michael Gartenberg is a research director at Gartner and a columnist for Computerworld, follow him on Twitter @Gartenberg.