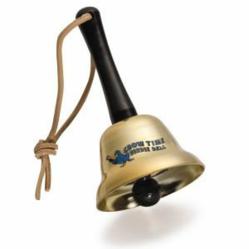 I just had to order one of these for my dad. He's nuts about his bluebirds!--Donna H. Duncraft Customer
Concord, NH (PRWEB) May 31, 2012
Bluebird lovers are very dedicated to their bluebirds. They typically buy bird feeders specially made for bluebirds and feed them specialty foods such as Bluebird Nuggets and live or dry-roasted mealworms—foods that "regular" birds don't often get. Now Duncraft offers the Birdie Bell, one more way customers can enjoy their bluebirds. Bluebirds can actually be trained to come get their mealworms when they hear the sound of the Birdie Bell!
People who feed bluebirds know they should feed their bluebirds at the same time every day. That way the birds know when to expect their food and will be waiting for it. Mealworms can be expensive and feeding at the same time every day lets the bluebirds get their mealworms before other more aggressive birds eat them all. Bluebirds love mealworms and depend on them to feed their nestlings.
Now Duncraft has discovered a new gadget for bluebird lovers that just came on the market a few months ago. And Duncraft is one of the first wild bird feeding companies to carry it. The Birdie Bell is an actual bell that can be rung whenever mealworms or other bluebird foods are put out. Bluebirds soon learn to associate the sound of the bell to delicious mealworms.
Styled after an old-fashioned school bell, the Chow Time Birdie Bell has a bluebird motif, an unbreakable handle and a rawhide loop for hanging by the door. Priced at only $9.95, the Birdie Bell also makes a novel gift for any bluebird lover.
Founded in 1952 and located in Concord, New Hampshire, Duncraft's objective is to bring the joy of backyard birding to wild bird lovers all across the country. Mike Dunn, owner and CEO is constantly inventing and searching for innovative ideas in bird feeding—giving bird lovers years of bird feeding enjoyment, success and satisfaction.
Duncraft
102 Fisherville Road
Concord, NH 03303
603-224-0200