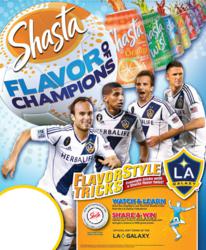 Denver, CO (PRWEB) May 30, 2012
SpyderLynk, a leading mobile marketing technology company and creator of the SnapTag™, announced today that the LA Galaxy soccer team and Shasta Beverages will be launching a summer campaign using SnapTags to engage and entertain fans of the Galaxy Futboleros while promoting the new partnership between the soccer team and Shasta, the official soft drink of the LA Galaxy.
Promotional advertising will be prominently featured on Shasta 12-Packs of Cola, Tiki Punch, Orange, Twist, and Grapefruit Zazz along with retail point-of-purchase signage. SnapTags are the mobile gateway to engage fans in this promotion. When soccer fans snap & send or scan the SnapTag they can access exclusive Shasta FlavorStyle videos featuring tricks and tips from the Galaxy Futboleros 'Soccer Entertainers' who have created a new and unique way to excite the soccer world. With a deep background in soccer entertainment, Galaxy Futboleros perform soccer tricks and juggling that combine speed, strength and balance to create high energy performances that are truly one of a kind.
Fans may instantly 'LIKE' Shasta on Facebook and show their flavor by uploading their own soccer trick videos to be ranked by Galaxy fans. A player from the LA Galaxy will select their favorite Shasta FlavorStyle video to be that month's winner. Monthly winners will receive a variety of Galaxy and Shasta prizes. Winners will also have their videos displayed online and on the DiamondVision jumbo screen at a Galaxy home game. At the end of the season, the Galaxy Futboleros will select one of the monthly winners as a grand-prize winner to receive $1,000 and a six-month supply of Shasta.
"We're delighted to provide our SnapTag technology to LA Galaxy and Shasta during their summer promotion," said Nicole Skogg, SpyderLynk Founder and CEO. "We've seen great participation rates for campaigns in which SnapTags were deployed during sporting events and for major beverage brands including at last year's SuperBowl. This campaign provides a fun and easy way to get fans involved to build brand awareness and drive summer sales."
"Shasta is excited to use SnapTag technology on our packaging and materials to engage our consumers," said Abbey Glaser, Director of Brand Management at Shasta Beverages, Inc. "Our Shasta Flavorstyle promotion powered by SnapTags gives fans an easy and immediate way to connect with us and bring to life the fun and flavor of the program."
"SpyderLynk offers an innovative mobile marketing technology solution with their SnapTags," said Bill Pedigo, Senior Vice President of AEG Global Partnerships, division of AEG, owners of the LA Galaxy. "What is enormously beneficial is that the SnapTags are uniquely branded, scalable because they are accessible to anyone with a camera phone, and they are measurable offering deep analytics, and an opt-in messaging system allowing remarketing opportunities for brands."
About SpyderLynk
SpyderLynk is a mobile activation and marketing platform company. SnapTags, Social SnapTags and Buy-it-Now SnapTags are SpyderLynk's proprietary 2D Mobile Barcode solutions enabling marketers to use meaningful logos and icons as interactive marketing tools. Consumers with smart or standard camera phones can use SnapTags placed on packaging, advertising, signage or screens. A smart, algorithm-driven platform powers campaigns ranging from simple to sophisticated accelerating purchase cycles and driving marketing results. Brands such as Coke Zero, Revlon, L'Oreal, MillerCoors, Warner Brothers, Toyota, Bud Light and others are using SnapTags to activate best in class marketing, accelerate their social connections and enable mobile commerce. Based in Denver, Colorado, SpyderLynk was founded in 2006 and can be found online at http://www.spyderlynk.com. Follow us on Facebook, Twitter and through the #SnapTag hashtag.
About Shasta
Since its founding in 1889, Shasta has been a beverage industry pioneer and family-trusted staple in America, with over 30 unique, innovative and distinctive soft drink flavors. Shasta has a flavor for everyone ranging from the new California Dreamin' and Fiesta Punch to such familiar favorites as Crème Soda and Root Beer. For more information, please visit http://www.shastapop.com, or Shasta Soda on Facebook and Twitter.
Shasta is part of the National Beverage Corp. family of iconic brands. National Beverage is highly innovative as a pace-setter in the changing soft drink industry, featuring refreshment products that are geared toward the lifestyle/health-conscious consumer. Shasta® – Faygo® – Everfresh® and LaCroix® are aligned with Rip It® energy products to make National Beverage . . . America's Flavor•Favorite – soft-drink company. Visit http://www.nationalbeverage.com.
About LA Galaxy
The reigning Supporters' Shield winners and MLS Cup champions, the LA Galaxy are currently playing their 17th season in Major League Soccer. One of the original 10 clubs in MLS, the Galaxy were founded in June 1994 before playing their first-ever game in April 1996. One of 19 teams in MLS, the Galaxy play all of their home games at The Home Depot Center, a 27,000 seat stadium that opened in 2003 on the campus of California State University – Dominguez Hills in Carson, Calif. A three-time MLS Cup champion in addition to their two U.S. Open Cup trophies and their CONCACAF Champions Cup title, the Galaxy boast a roster that features many of the biggest domestic and international stars in all of MLS. For more information about the club or to purchase tickets for any Galaxy home game, please call the 877-3GALAXY or visit the club's official website http://www.lagalaxy.com.
# # #