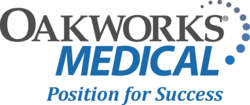 This new torso pad is designed to offer more lateral support and greater resistance to crushing
New Freedom, PA (PRWEB) May 31, 2012
Oakworks Inc. will unveil the new torso pad designed to work with the Spine Positioning System that is widely used to facilitate medical treatments which require pain management tables. Jeff Riach, CEO said: "This new torso pad is designed to offer more lateral support and greater resistance to crushing when working with obese patients. It seamlessly integrates into the SPS and gives the docs the positioning tools they need with large patients." The new pad is significantly wider and higher than the previous torso pad while still maintaining a high level of radiolucency and will be available as an accessory to the Spine Positioning System later this summer.
A new supine head support will also be unveiled at the ISIS Annual meeting. This new medical positioning device is designed to maximize access for anterior approaches to cervical injections by comfortably and securely positioning the head. The unique design promotes relaxation of muscles in the neck and is easily configured to make patients comfortable. "We believe that this deceptively simple support system will make a big difference in the doc's abilities to use anterior approaches by simplifying the positioning process and insuring good access, secure patient positioning, and relaxed muscles" said Rich Elsen, CSO.
Both devices will be on display in Oakworks booth, # 25 at the ISIS Annual Meeting. Oakworks tables will also be found in GE's booth #24 and in RS Medical's booth #33.
About Oakworks:
Since 1977, Oakworks has been committed to providing safe, durable, comfortable and ergonomic medical tables, spa tables, physical therapy tables, treatment tables and positioning accessories to industries supporting the health and wellbeing of people all over the globe.
Since its inception over 30 years ago in South Central Pennsylvania, OAKWORKS® has been committed to creating products that promote comfort, relaxation, and healing for individuals receiving therapeutic treatments. Currently employing over 100 talented and committed men and women, in a modern 91,000 sq. foot facility located in New Freedom Pennsylvania, Oakworks is capable of producing more than 250 superior quality, rigorously tested pieces of equipment a day – equipment sold in all 50 US states and through a network of distributors in 35 countries worldwide.
For more information, visit http://www.oakworksmed.com
For additional information on Oakworks and their products Contact:
Email address: info(at)oakworks(dot)com
Phone: 717.235.6807