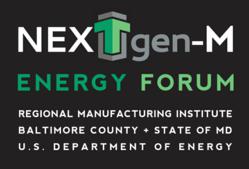 "We have more manufacturers in Baltimore County than any other county in the state," said County Executive Kevin Kamenetz. "Energy efficiency and productivity go hand in hand. More prosperous and greener companies benefit us all."
Hunt Valley, MD (PRWEB) May 31, 2012
The Regional Manufacturing Institute of Maryland (RMI) is excited to announce that Dr. Leo Christodoulou, head of the U.S. Department of Energy's (DOE) Advanced Manufacturing Office, will give the keynote address at the NEXT-Gen Energy Manufacturing Forum on June 6, 2012 at the Crowne Plaza Hotel in Timonium, Maryland. Dr. Christodoulou's presentation will review the results of the "different approach" energy conservation model RMI developed after receiving a grant from Baltimore County as a part of the American Recovery Act.
Prior to his position with the DOE, Dr. Christodoulou served as Director of the Defense Advanced Research Project Agency's Defense Sciences Office, applying his research expertise to develop revolutionary materials capabilities for the U.S. military. He has authored more than 60 technical papers and is named co-inventor on more than 20 U.S. patents and their foreign equivalents.
The Next-Gen Energy Manufacturing Forum will feature the unique approach taken by RMI and insights from six manufacturers from Baltimore County, Maryland that participated in the program – GM Baltimore Operations, MarquipWardUnited, Acadia Windows & Doors, Green Bay Packaging, Lion Brothers and Kirk-Habicht Company – that, in the past nine months, have made significant energy improvements at their facilities. "Energy is a big ticket item, as many manufacturers have large plant facilities, and warehouses require energy for lighting, air compression systems, heating, HVAC, ovens and machinery equipment for their daily operations," said Dr. Mike Galiazzo, President of RMI. In addition to showcasing these results, RMI will also provide insight into how other manufacturers can reap the benefits of energy conservation.
In December 2009, Baltimore County was awarded $7,403,600 from the Department of Energy's Energy Efficiency and Conservation Block Grant Program. As the trusted organization representing the interests of Maryland manufacturers, RMI received a portion of this grant to develop a Self-Directed Green Team (SDGT) and encourage manufacturers to reduce energy consumption. "We have more manufacturers in Baltimore County than any other county in the state," said County Executive Kevin Kamenetz. "Energy efficiency and productivity go hand in hand. More prosperous and greener companies benefit us all." Executive Kamenetz will give welcoming remarks at the event on June 6.
Also speaking at the forum will be representatives from the Maryland Energy Administration (MEA). MEA Director Malcolm Woolf will give the lunchtime keynote address, followed by a roundtable discussion – Realizing the Financial Potential of Energy Efficiency – led by MEA Business Manager Dr. Nandini Mouli.
The cost to attend the forum is $50 and includes lunch. Exhibition tables are available by contacting Peter Gourlay at peter.gourlay(at)mdaep(dot)com or 443-275-2489. Registration information and a full agenda for the event can be found at http://www.rmiofmaryland.com.
About the Self-Directed Green Team (SDGT)
RMI's Green Team formed after Baltimore County received a $7.4 million grant from the U.S. Department of Energy as a part of the American Recovery Act. The SDGT approach encouraged the executives to outline a program to reduce energy consumption. All of the companies had previously demonstrated a commitment to sustainability, and RMI's efforts built on that to accelerate new strategies for energy conservation. Each plant manager agreed to prioritize their energy upgrades, make fixes based on a strong payback case, and meet monthly to share their progress. As the grant comes to a close in June, each of these companies has made tremendous improvements within their facilities, saving thousands of dollars in energy consumption and making huge strides in behavior change. Read the Green Team's blog to learn more about the progress each company has made.
About RMI of Maryland
Founded in 1990, the Regional Manufacturing Institute (RMI), a non-profit association, was created for manufacturers in the Baltimore Metropolitan area. Today, RMI of Maryland represents the interests of manufacturers statewide – providing programs, services, and advocacy. For over 20 years RMI has provided hands-on help to manufacturers by serving workforce needs through its collaborative relationship with community colleges and relevant government agencies and connecting manufacturers with private, state, and federal resources to help manufacturers export their products globally. RMI also connects smaller manufacturers to larger manufactures to provide learning models on lean practices, exporting, green manufacturing and Next Generation Manufacturing, and helps educate senior policy-makers on the importance of manufacturing to Maryland's economy to ensure that adequate resources and attention are devoted to manufacturing.