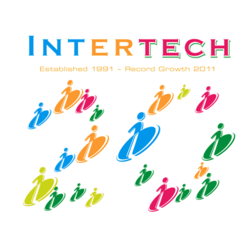 "We look forward to celebrating this milestone with those who made it possible... our customers and our employees
(PRWEB) May 31, 2012
Intertech (http://www.Intertech.com), a software development consulting and training firm, will be giving away over $7,000 of free training at its open house on May 31, 2012. The open house will feature presentations on "An Introduction to Groovy", "WinRT, Metro, and Windows 8 Application Development", and "Building a Winning Business."
"We look forward to celebrating this milestone with those who made it possible... our customers and our employees," stated Intertech CEO, Tom Salonek.
Throughout the open house there will be gift items for attendees. At the finish of the open house, Intertech will be offering up three training certificates. Each certificate has a value up to $2,695.
Along with celebrating over 20 years in business, Intertech is celebrating a move to a new headquarters completed at the start of the year. In addition, Intertech is celebrating a record year for sales.
"From new customers to recently being named one of the Top 100 Employers in the state of Minnesota, we've got a lot to celebrate," said Dan McCabe, Intertech Partner.
Registration while limited is still available at: http://www.intertech.com/Free-Developer-Training/
About Intertech
Founded in 1991 by local entrepreneur Tom Salonek, Intertech, Inc. has grown from a one-person shop to the largest combined software developer training company and research-supported consulting firm in Minnesota. Intertech designs and develops software solutions that power Fortune 500 businesses along with teaching these and other organizations including mid-sized companies and state government.
Intertech works with NASA, Wells Fargo, Lockheed Martin, Microsoft, Intel, and other major companies around the United States helping them learn and use technology. Intertech is a Microsoft Gold Partner, a Microsoft Inner Circle member, a seven time winner of the Best Places to Work in Minnesota award, a finalist in the Wall Street Journal's Winning Workplaces award, a multi-year winner of the Inc. 500 and the Inc. 5000 awards for company growth, a winner of the Forbes ASAP growth award, and a winner of the Minnesota Fast 50 growth award. Intertech has been featured in Inc., Forbes, Upsize magazine, the Star Tribune, the Business Journal, the Pioneer Press, the Hudson Star-Observer, Minnesota Business, and Twin Cities Business Monthly.