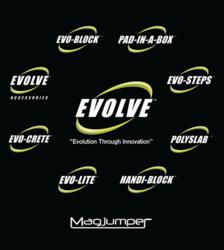 Our line-up of HVAC pads is based completely on giving the HVAC professional in the field what they have been asking for years
Columbia, MD (PRWEB) May 31, 2012
With the 2012 HVAC season set to kick into gear, Evolve Composites is poised to storm the marketplace with its innovative line up of HVAC Equipment Pads, PVC Products and HVAC accessories. With its growing offering of HVAC pads led by the unparalleled and innovative "Polyslab" plastic technology, Evolve Composites is quickly becoming recognized as a solution based trend setter of the HVAC industry. With its unique nesting ability, Polyslab Plastic Pads stack 31 units to a pallet, saving distributors and contractors ample and valuable floor space. Additionally this nesting ability provides distributors needed stocking flexibility and greatly diminishes irritating storage issues, positioning Evolve Composites as an innovator in issues of warehousing and distribution in addition to product performance and capability.
With its innovative design, Polyslab delivers superior performance over competitor's plastic pads. Maximum ground contact, reinforced corners and flanged edges are just some of the feature and design benefits that separate the Polyslab from the typical plastic pads that inundate the HVAC landscape. "With Polyslab we deliver to the distributor critical items that are huge factors into today's marketplace. Conservation of floor space, ability to maintain optimal inventory levels for the end customers needs in addition to performance that enhances unitary product performance separates Evolve Composites and our Polyslab pads" says Rick Mabry, Director of Sales—HVAC, Pool and Plumbing. "The Polyslab is an engineered and practical solution and is far from just another piece of plastic that we typically see amongst this product line."
Rounding out the 2012 offering of pad products in Evolve's HVAC Equipment Pad line up are:
**Evo-Crete – the full FRCC concrete based pad. With maximum heft and denseness, Evo-Crete delivers heavy duty performance while maintaining its aesthetically pleasing appearance and user friendly weight qualities that equal up to 1/3 the weight of traditional aggregate based concrete pads.
**Evo-Slab – the high performance pad with the heavier weight qualities of the Evo-Crete, but at an even greater reduced weight attributed to its high density foam core. This innovative core design allows for the Evo-Slab to be drilled into while still providing maximum strength and thicknesses at the critical corner areas and sidewalls while utilizing a foam core designed to repel pest such as ants or termites.
**Evo-Lite –this newest Evolve Composite offering is an industry innovation that is unparalleled. Evo-Lite delivers the ultimate in ultra lightweight pad technology, without sacrificing performance or ability. Made of full, lightweight FRCC concrete and a high density foam core, the Evo-Lite delivers the strength and look of concrete, the innovative performance of full concrete corners and thicker critical wall and surface structures. Like its Evo-Slab cousin, the Evo-Lite features a foam core that repels pest. Additionally, the Evo-Lite also features Evolve's "Evo-Skin" technology, giving the surface a further level of toughness, protection and strength.
"Our line-up of HVAC pads is based completely on giving the HVAC professional in the field what they have been asking for years" continued Mabry. "We provide pads that meet their needs and are user friendly, innovative and performance driven at a great price with no sacrifice of quality. We believe when all things are equal in this competitive unitary landscape, Evolve HVAC pad products offer the distributor and the contractor differentiation and value they can provide to their customers. It isn't just a pad, but the base for one of the largest and most critical investments made on most homes today"
Evolve will feature all of these and other exciting products at the 2013 AHRI Expo in Dallas Texas.