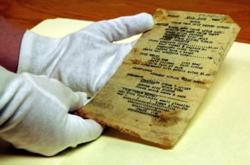 "The most important element for us was finding the best scanner..." Karin Helfich, VP Prensa Scan
Toronto, Ontario (PRWEB) May 31, 2012
Prensa Scan recently purchased the Book2net Kiosk offered by Ristech, which includes a high-resolution, single-shot camera that can scan up to 2,000 pages per hour and is still gentle on books. Saving time, money and energy with fast and precise digital scanning, Prensa Scan offers digitization and preservation of texts, including historical documents, academic journals and more.
"The most important element for us was finding the best scanner, and it was a bonus that Ristech was located right down the street," said Karin Helfrich, vice president of sales and marketing for Prensa Scan. "With the quality of the scans, the outstanding camera and lens, and the ease of use for the software, the Book2net Kiosk has been all we hoped it would be."
In particular, Prensa Scan works with universities and libraries to provide the latest 3-D scanning, book and document scanning, and interactive e-books using the latest scanning technology available.
"We enjoy working with our customers across Canada and were particularly pleased to develop a relationship with a close neighbor in Prensa Scan," said Robb Richardson, president, Book2net, North American operations. "We are thrilled that they appreciate the quality and simplicity offered by the Book2net Kiosk and look forward to joining them as they expand to new locations."
Prensa Scan is also in the process of establishing Scanner2Go, which will offer basic document scanning services in a variety of locations.
About Ristech Company
Ristech Company is a leading supplier of digitization technology for fragile and bound documents. Specializing in the capture and distribution of images, Ristech has an impressive list of end users and partners in the imaging market place. Our technology is used extensively in libraries, archives and research facilities where quality and careful handling of materials is a concern. Some of our clients include The Library of Congress, Library and Archives Canada, The University of Toronto, University of Laval and McGill University, to name a few. For more information, please visit http://www.ristech.ca.
About book2net Inc.
book2net Inc. is an international alliance of manufacturers, libraries and service providers that design and produce book scanning technology. With an installed base of more than 500 clients including the Library of Congress, the British Library, National Archive of Sweden and many leading academic libraries in North America, book2net develops technology from the ground up with end users at the table. For more information, visit http://www.book2net.net.