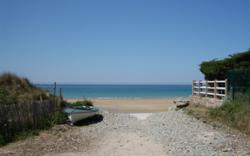 Feeling safe and secure becomes a way of life in rural Brittany, the very low crime rate coupled with respect for others and their property contribute enormously to the sense of calm and well being easily
(PRWEB) May 30, 2012
Leggett Immobilier's Brittany Team, offers 10 reasons why you should consider buying a property in Brittany.
1. Proximity to the UK and varied transport links make it possible to get to Brittany quickly and affordable by a wide variety of routes. With 2 ports, 4 airports, numerous TGV stations and an excellent toll free road network it is easy to Brittany, to move around, and to finally wave goodbye to the stress of traffic jams.
2. Affordable, stable property prices have long been attractive for both French and International buyers. Although Brittany has seen a hardening off of prices, there have not been the extreme swings seen in other regions and property here remains a good, safe investment. Homes are well priced and represent great value for money.
3. The beauty of the region and the miles of coastline attract holidaymakers and home owners alike. The diverse landscape includes forests and lakes, craggy cliffs and sandy beaches, all un-crowded and easy to access. Trekking on foot, bike or horse are popular pastimes. Water sports and fishing are very popular and with over 700 miles of coastline it's easy to see why.
4. Great seasonal fresh food, particularly seafood is a real pleasure, whether you catch or grow it yourself or find it in one of the many markets held daily in local towns or villages. The oysters of Cancale are world renowned as the very best and local strawberries, cheeses, cider and fresh bread are simple pleasures ideal enjoyed outdoors whether in your own garden or at a picnic on the beach.
5. Feeling safe and secure becomes a way of life in rural Brittany, the very low crime rate coupled with respect for others and their property contribute enormously to the sense of calm and well being easily achievable. Neighbours are neighbourly, shop keepers are polite and adolescents are more likely to be occupied with school work or sports than hanging about aimlessly on street corners.
6. The gentle climate suits many people, Brittany is the mildest region of France in winter and doesn't experience extremes of heat in summer, in fact it doesn't experience extremes of weather full stop. There is a fallacy that Brittany is a wet region, but that's what it is, a fallacy. It is a peninsular and as such experiences many micro-climates and it is true that average rainfall can vary quite a bit over a short distance, but no, it doesn't rain any more than we need it to just to keep it beautiful and green
7. Education; for those relocating a family, academic achievements in Brittany are amongst the highest in France. Schools have good resources and many village schools have increasing rolls coupled with small class sizes so there is lots of individual attention. School life is uncomplicated and children spend lots of time outdoors doing sports, gardening and going on walks or trips. As pupils move on there is much more vocational training available and a chance to learn trades or secure apprenticeships as well as more academic options for those who want them.
8. The retirement culture is well established. Brittany is not full of retirees, but the demographics show that there is a high proportion of elderly residents and both French and International retirees choose the region. Many Parisians, whether originally from Brittany or not, choose to move here for the relaxing way of life and many of the reasons listed here. They know their families will be keen to visit and can get here easily too.
9. Living 'The Good Life' is a big part of the dream for many who settle in Brittany and very much a way of life for the locals. Many homes have a few chickens or at least a veggie patch. Picking a fresh lettuce for a salad is a joy and the smell of a greenhouse full of ripe tomatoes is heavenly. Being in touch with nature gives a lovely rhythm to life and there is a new pleasure with every season.
10. Comfortable integration is easy as the Breton people are naturally very welcoming and very used to International buyers settling in their community. They firmly believe Brittany is not France - so anyone who wasn't born in Brittany is foreign! Observe the way of life; live gently and love nature, appreciate the beauty of the region and respect your neighbours and integration will come easily. It also helps if you invite your neighbours over for a glass of whisky!
The Leggett Brittany Team have over 650 houses and properties for sale in Brittany and will help you find your ideal home