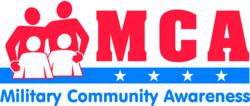 Woodbury, NY (PRWEB) May 31, 2012
Military Community Awareness (MCA) is pleased to introduce their 2012 summer/fall Buyer's Guide. With this 2012 catalog products have been created with the goal of providing service members and their families with the necessary information and resources. New products include books, info slides, workbooks, promotional products, and more.
MCA is introducing their new "Military Info Slides." These slides provide vital information for service members and their families. Topics include Reunion, Suicide Prevention, Finances, Drug Prevention, and more.
MCA has also added products to be used with younger children. The Childhood Transition Series of books includes 5 books that help parents and professionals assist children going through difficult transitions; such as moving away, the lose of someone special, divorce, a new sibling, and becoming a step-family. They are also introducing the new line of products: Fatherhood Enrichment Resources, which includes the Hey Dad! Let's Talk Board Game, the Hey Dad! Let's Write! Postcard Set, and the Hey Dad! Let's Learn! Card Game.
Visit 4MCA.com or contact Sandy Collins at 1-877-813-4MCA ext. 104 (1-877-813-4622)
MCA is a brand of The Guidance Group and provides innovative products for Family Support and Service Centers, Family Advocacy Programs, Youth and Child Development Programs, Drug Reduction Staff, Chaplains, schools, and others assisting military families worldwide. MCA develops products dealing with relocation, deployment, reunion, drug prevention, etc. As an approved federal government vendor, MCA takes pride in supporting the activities and programs managed by military installation support centers; Department of Defense Schools; and Morale, Welfare and Recreation agencies operating in the United States and abroad.