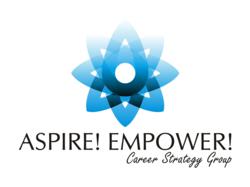 'We use a cutting-edge technology proven to increase your chances of getting an interview by providing you with a custom tailored error-free, keyword-rich resume' says DC job search expert Laura M. Labovich
Bethesda, MD (PRWEB) May 31, 2012
Aspire! Empower! Career Strategy Group announces a new resume add-on service that aims to protect resumes from the dreaded black hole. Beginning May 30, 2012, all resume packages will include one submission to a proprietary online tool, Preptel Resumeter®, that will diagnose a resume's effectiveness against the job the candidate is targeting. Then, the writing team will incorporate the right keywords in the right places, improving a candidate's chances up to 40% for any given job.
Laura M. Labovich, President and Founder of Aspire! Empower! Career Strategy Group shared: "We know the chances are slim to none that any resume, even a finely-crafted one, will get past the "bots" of an applicant tracking system. That's why we use the Preptel Resumeter®, a cutting-edge technology proven to increase your chances of getting an interview by providing you with a custom tailored error-free, keyword-rich resume. We use exclusive software, adapted from the same technology hiring company's use to ensure your resume is the best fit, and customized for the job you want."
At most companies, computers, not humans, will read a candidate's resume first. Statistically, 75% of resumes are discarded for using the wrong keywords, and more than 20% of resumes don't make it due to formatting issues. While most candidates spend 80% (or more) of job search effort applying to posted jobs, only 2-5% will actually ever get an interview. When a candidate submits a resume to a corporate website, the job seeker is not only up against the people who applied for that specific job; rather, he is up against anyone in the resume database who has good keyword relevance. Finding a top spot among the mass of resumes requires not only luck, but a detailed understanding of keyword logic.
If a job seeker does not receive a response from a company, chances are the resume (along with 60% or more of the resumes in the database) did not make it past the ATS software test. It could be rejected for name or character convention violations, or keyword matching could be insufficient.
Regardless of the reason, a solution does exist. Now, every resume purchased through Aspire! Empower! Career Strategy Group will first get a trial run through the ATS, followed by keyword fixes that will raise the resume to the top of the pile, giving it a significantly better chance of bypassing the resume black hole entirely, and getting viewed by human eyes.
About Laura M. Labovich and Aspire! Empower! Career Strategy Group:
Laura M. Labovich, MLRHR, Founder and President of Aspire! Empower! Career Strategy Group, is a Guild Certified Five O'Clock Club Career Coach, an award-winning résumé writer, and the co-author of the soon-to-be-published book: "100 Conversations for Career Success: Learn to Tweet, Cold Call and Network Your Way to a Dream Job" (LearningExpress, LLC.)
Aspire! Empower! Career Strategy Group (http://www.aspire-empower.com) is a full-service career consulting firm that arms high-achieving professionals with empowering job search solutions enabling them to attract more job offers, at higher rates of pay, in a shorter period of time. Aspire! Empower! offers job search strategy coaching, résumé and career marketing document development (bios, Linkedin profiles, executive summaries) social media training, and career development workshops for individuals and companies, in the Washington D.C. area, and throughout the U.S.