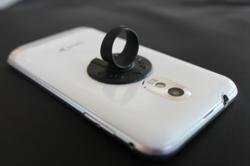 "You can spend $300, $400, $500 or more on some of these devises and when you drop one on tile or cement, even on a wood floor you run the risk of having it break apart."
(PRWEB) May 31, 2012
The product is called SnapALoop and it attaches to the back of mobile devices and features a loop for users to slide their finger through so the object doesn't fall out of their hand.
"I've dropped my phone plenty of times while trying to multitask or while texting and that's how I came up the idea for SnapALoop," said company President and CEO Bryan Karle.
As shown in the video SnapALoop's ring, which is made from a soft flexible plastic also swivels 360 degrees for greater apALoop's customer comfort Karle noted.
Manufactured entirely in the United States, Karle said dropping a smart phone can prove to be costly. "You can spend $300, $400, $500 or more on some of these devises and when you drop one on tile or cement, even on a wood floor you run the risk of having it break apart."
But Karle said destroying a cell phone or smart phone by dropping it in water is not unheard of either.
"Living in Florida I know boaters who have dropped their cell phones in the water, people who have dropped their phones in a pool and I know people who've accidentally dropped their phone in the toilet."
SnapALoop he said is designed to prevent that from ever happening again.
The company also touts the product as perfect for runners or walkers who want to attach it to an MP3 player.
While company Vice President Rozana Karle says they have yet to advertise SnapALoop they are already getting sales from Hawaii, California and New Hampshire.
"I think that shows just how much people can use a product like this," Rozanna Karle said.
Sold online through the company's website, SnapALoop will be available in multiple colors at a cost of $9.95 for two sets. Sales will begin within the month.