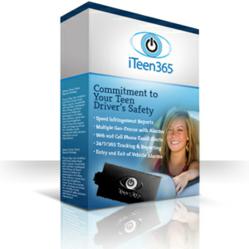 With more than 10 million teen drivers on the road, there has never been a better time than now to educate parents on this new technology.
Chicago, IL (PRWEB) May 31, 2012
iTeen365, the latest and most advanced GPS-based teen vehicle monitoring system – announces the launch of its new affiliate marketing program. Bloggers and industry-related websites can now partner with iTeen365 and earn 50% of the activation fee for each unit sold from their referral.
Why iTeen365:
A 2012 study released by the Governors Highway Safety Association reports that the number of teen drivers dying behind the wheel is on track to increase for the first time in more than eight years. With more than 10 million teen drivers on the road, there has never been a better time than now to educate parents on this new technology. By partnering with iTeen365, affiliates can help save teen lives, make the roads safer for everyone, and give parents peace of mind.
"Our goal with iTeen365 is to reduce the number of driving-related accidents and fatalities among teen drivers," said Joe McBreen, CEO of iTrack365, the makers of iTeen365. "With our new affiliate program, we hope to get iTeen365's message out to every parent in America and we are excited to partner with like-minded sites and bloggers who are just as committed about teen driving safety as we are."
How iTeen365 Works:
After purchasing iTeen365 from iteen365.com, the device is shipped directly to one of iTeen365's authorized installation technicians (available nationwide) who then coordinates the installation appointment with the customer. The unit is about the size of the average smartphone and is secured under the car's dash – making it virtually tamper-proof. Once installed, parents log into the online dashboard and can begin accessing the vehicle's information.
iTeen365 Key Features:
Tracking Data: Real-time visibility of vehicle's location
Vehicle History Reports: Detailed driving reports. Up to 4 months of data available for viewing
Mapping: Easy online map view of vehicle location via integrated Google Maps
Speed Infringement Reports: See speeding infringements in different speed zones over a period of time
Geo Fencings: Designate approved driving areas and locations
Movement Alarms: Alerts any unapproved movement of the vehicle
Email Alerts: Receive email alerts for when the vehicle leaves or comes into designated area(s)
Cost Savings: Parents can save 15%-30% on car insurance by installing iTeen365 in teen's car
Affiliate Benefits:
iTeen365 is committed to ensuring the success of their affiliates and have put together a comprehensive affiliate program to make selling the device simple. iTeen365 offers affiliates access to its exclusive resource center, which includes: email templates designed for affiliates to use to send out to their subscribers and email lists; fact sheets; press releases; professional banner ads and artwork; and story ideas for promoting iTeen365.
Cost / Payout:
iTeen365 can be purchased at http://www.iteen365.com for free with a 2-year service agreement ($34.95) and one-time activation fee ($50). Affiliates will earn a fantastic payout - 50% of activation fee collected online at time of sale.
To get started, please click here.
About iTrack365, Inc.:
iTrack365 has partnered with one of the world's leading providers of telematics to offer a complete range of web-based GPS vehicle tracking and GPS fleet management solutions. Currently available in over 30 countries worldwide, the iTrack365 suite includes: iTeen365, iSenior365, iPrivatei365, iFleet365, and iLease365. With advanced technologies, its own full end-to-end solution capabilities from the design of the hardware and software, to the web based hosting solution, iTrack365 has made this a convenient, user-friendly application for both individuals and companies of any size. For more information: http://www.iteen365.com / 866-900-2464
Media Contact: Shelly Cellak | Burgeon Agency, Inc. | shelly(at)burgeonagency(dot)com | 773.398.6154