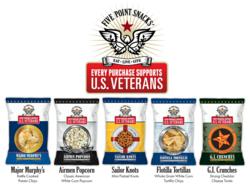 This is a great opportunity to help us raise awareness for the unique challenges that returning veterans are facing.
New York, NY (PRWEB) May 31, 2012
Five Point Snacks, a consumer product company with a philanthropic mission to help veterans, is pleased to formally announce its goal of raising $50,000 to support the Bob Woodruff Foundation in its mission to help injured service members and their families.
The founders of Five Point Snacks, Alan Blum and Charles Herbstreith, created the company with the specific goal of helping veterans. Both founders' fathers served in the military, Herbstreith's in the Navy during WWII and Blum's in the Army Reserves.
"This goal gives us something tangible to aim towards," said Alan Blum, President of Five Point Snacks. "By donating 5¢ from every bag of snacks, we're looking at selling one million bags between now and year's end – it's ambitious but doable."
Co-founded by award-winning ABC News reporter Bob Woodruff after he sustained serious injuries while covering the Iraq War in 2006, the Bob Woodruff Foundation is a national non-profit dedicated to providing resources and support to service members, veterans and their families to successfully reintegrate into their communities.
"We are grateful for Five Point Snack's dedication to our cause," said Anne Marie Dougherty, Executive Director of the Bob Woodruff Foundation. "This is a great opportunity to help us raise awareness for the unique challenges that returning veterans are facing."
Five Point Snacks' products are available at major supermarkets throughout the Northeast. Visit the Five Point Snacks website for a store locator.
For more information or to schedule an interview, contact Alan Blum.
ABOUT FIVE POINT SNACKS
One small snack company. One great mission. Five Point Snacks is a snack line with a pledge and commitment to helping U.S. veterans across the country. For every bag sold, five cents is donated to the Bob Woodruff Foundation to support injured veterans from all branches of the military. For more information about Five Point Snacks, visit http://www.fivepointsnacks.com.
ABOUT THE BOB WOODRUFF FOUNDATION
The Bob Woodruff Foundation is the national non-profit that targets the challenges service members, veterans, and their families face when they return home injured after combat. The Foundation invests in innovative community-based programs that provide meaningful activity, purpose, and fulfillment for post-9/11 wounded warriors. BWF focuses on reintegrating these service members into their communities. For more information, visit http://www.remind.org.