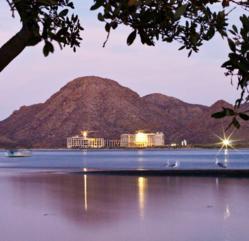 Studio City, CA (PRWEB) May 31, 2012
PeterGreenberg.com's Summer Survey Sweepstakes launches on June 1, offering participants a chance to win an all-inclusive vacation to the hidden gem of Loreto, Mexico.
Through mid-July, PeterGreenberg.com is offering the chance to win a series of hotel stays at Villa del Palmar Beach Resorts & Spas properties in Puerto Vallarta, Riviera Nayarit, Cancun, and Cabo San Lucas, culminating in a grand-prize giveaway of an 8-day, 7-night, all-inclusive stay in Loreto, Mexico, including round-trip airfare from LAX.
To enter the sweepstakes, simply sign up for PeterGreenberg.com's daily e-newsletter, Travel News Daily, for the latest travel news and tips, and take a short survey about your travel habits. You'll automatically be entered for a chance to win one of several hotel-only stays at Villa del Palmar Beach Resorts & Spas. The grand prize is an all-inclusive stay at the five-star Villa del Palmar Beach Resort & Spa, Islands of Loreto, plus round-trip airfare on a charter flight from LAX.
Sweepstakes winners will be chosen at random and notified via email. Blackout dates may apply. Click here to see complete sweepstakes details.
Loreto is located on the east side of Mexico's Baja Sur, boasting laid-back, quiet beaches, scenic views and natural habitats. For more insight into this undiscovered destination, check out PeterGreenberg.com's "Like a Local" video series.
Villa del Palmar Beach Resorts & Spas comprise a collection of six distinctive hotels in five Mexican destinations, with more on the horizon.
Peter Greenberg is America's most recognized, honored and respected front-line travel news journalist. He is Travel Editor for CBS News, appearing on CBS This Morning, CBS Evening News with Scott Pelley, and CBS Sunday Morning, among other broadcast platforms.
He is host of the nationally syndicated Peter Greenberg Worldwide Radio show, broadcast each week from a different remote location around the world.
Visit PeterGreenberg.com for travel contests, sweepstakes and more.