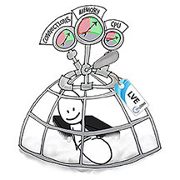 Our shared hosting security increased dramatically the day we put CageFS in place
Princeton, NJ (PRWEB) May 30, 2012
Cloud Linux Inc., an innovative software company serving the needs of hosting service providers, has released CageFS Version 3.5. This new version of the software features dramatic improvements in security for shared hosting companies. CageFS is a virtual file system that encapsulates each shared hosting customer in its own private virtual space. Such an approach prevents hackers from scanning the server for vulnerable files, finding out who the other users on the system are, or escalating privileges to gain root access.
The new version features performance and stability improvements, protection against symbolic link attacks, and the removal of all setuid root binaries from inside the CageFS.
"Hackers often use setuid root binaries to escalate privileges and gain root access to the vulnerable system," said Igor Seletskiy, founder and CEO of Cloud Linux Inc. "Removing them from a hacker's reach should significantly reduce the number of attacks against shared hosts."
"Our shared hosting security increased dramatically the day we put CageFS in place," said Hamza Aboulfeth, CEO of Genious Communications. "In other words, thanks to CloudLinux's CageFS, our clients' websites won't be affected because one hosted website within our server is vulnerable!"
CageFS is available at no charge to existing Cloud Linux customers. It can be installed on existing production servers without the need to move or migrate customers.
About CloudLinux
CloudLinux was founded in 2009 to address the distinctive needs of web hosting providers. The company's headquarters is in Princeton, New Jersey, and its development team, which is composed of employees with an appreciable proficiency in the hosting business, is based in Donetsk, Ukraine. CloudLinux is a stable privately funded company geared toward providing the ideal OS to make even the most intricate and divergent hosting needs more straightforward and less complicated.
For more information about CloudLinux, visit http://www.cloudlinux.com.