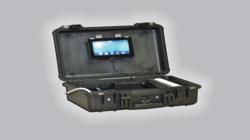 Many groups like EMS, fire and municipal need to access secure databases, and print forms like floor plans, technical diagrams, medical reports and receipts on the fly.
Toronto, Ontario, Canada (PRWEB) May 31, 2012
Mobile Innovations President Gary Bauer is on the road again, travelling from his company's offices in Toronto to attend a T-Mobile mobile solutions event in Bloomfield Minnesota, June 12 and 13. Unlike his recent appearances at BlackBerry World 2012 and the Canadian NICHE User Conference - where he arrived driving a Dodge Charger Police Enforcer loaded Mobile Innovations PlayBook solutions - he will be stepping off a plane, carrying all of the same in-vehicle PlayBook 2.1 solutions in a 20 pound case called MPACaseMaker.
Another difference is that he will be meeting not only with law enforcement officials, but also with EMS, fire, municipal works and utilities representatives. "Not everyone who is looking for an inexpensive alternative to ruggedized laptops can mount a PlayBook into their service vehicles." Bauer explains. "But many of these folks still need to access secure databases and print documents and forms on the fly." Bauer is referring to the ongoing need to print service forms like floor plans, technical diagrams, receipts, medical records and other documents commonly required by non-law enforcement public service agencies.
Originally designed as a ship-anywhere benchmarking kit for international police services who didn't want to cover the travel and accommodation costs of a visiting Mobile Innovations IT specialist, MPACaseMaker has caught on with other public service agencies via word-of-mouth. As well as an 8.5"x11" roll-fed thermal printer, the kit's Pelican hard case contains a PlayBook with a BlackBerry keyboard, mag stripe scanner and USB SmartHub, driven by a 12volt plug-in power supply. With this Mobile Innovations kit, any agency can print virtually any letter or legal size DOC or PDF format document anywhere, on demand.
Bauer attributes the growing demand for MPACaseMaker by EMS, fire, municipal and utility services customers to the kit's rugged printing solution, its security, ease of being 'swapped out' from one vehicle to another and its affordability with a unit price of only USD $2,500. -- all of which make MPACasemaker well suited to smaller municipalities with limited budgets. Demand is likely also heightened by the fact that MPA is one of very few, if not the only portable printing solutions currently available for PlayBook QNX.
Live demonstrations of MPACaseMaker's printing, secure data access and other capabilities may be seen at the upcoming T-Mobile Mobile Solutions Expo to be held on June 12th and 13th at Mall of America, Bloomington, Minnesota.
For more information, please contact:
Gary Bauer – President
Mobile: 1-416-889-9997
Email: garyb (at) mobinnoco (dot) com
Mobile Innovations is a privately held company dedicated to enhancing law enforcement, EMS, municipal, fire and utility operations with the most advanced mobile data products available. Based in Niagara Falls, Canada, Mobile Innovations also has operations in Toronto and works with over fifty agencies across Canada, the United States and in the United Kingdom. Mobile Innovations is a member of the BlackBerry® Alliance Program with six years of service developing and deploying advanced mobile solutions for BlackBerry devices.