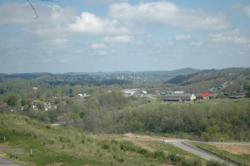 In times like these, an auction is the best way to establish what real market value is
KANSAS CITY, Mo. (PRWEB) May 31, 2012
Interested buyers will have the opportunity to purchase one or more West Virginia parcels at auction prices. Seven commercial and residential tracts, as well as Marcellus Shale natural gas rights, will be sold during two live events on Friday, June 8 and Saturday, June 9.
These two auctions will be conducted by United Country – Redfield Group Auctions, Inc., of Gadsden, Ala., in conjunction with Randy Burdette, auctioneer and broker with United Country – Riverbend USA, LLC, of Alderson, W.V.
The first auction on June 8 features three prime development properties in Fairmont, W.V. They range in size from two and a half to 49 acres and are right across the street from Walmart Supercenter. They are located at the Interstate 79, U.S. Highway 250 interchange and receive excellent visibility from approximately 65,000 vehicles a day. These tracts are situated around Middletown Mall, which is 99 percent occupied. This auction will also offer Marcellus Shale natural gas rights which will be offered separately.
The June 9 event will feature 150 acres located in the Canaan Valley, W.V area. The property will be offered in four separate tracts or in its entirety. The property adjoins the Canaan Valley Institute, U.S. Fish and Wildlife land, and a major timber company. It features access to Yellow Creek, wooded and open areas and elevations from 3,100 to 3,200 feet. The tracts will be restricted to light retail, residential and equestrian uses to preserve the character of the property.
"Our sellers recognize the value of using an accelerated method of marketing – in other words, an auction – to sell their properties," said Burdette. "What does this mean for buyers? It means they have the opportunity to purchase part or all of these great West Virginia parcels at an affordable price. Today's market conditions and the auction format allow sellers and buyers to come to a meeting of the minds quickly with a competitively achieved fair market value. In times like these, an auction is the best way to establish what real market value is."
The June 8 event will begin at 4 p.m. at the Holiday Inn Express in Fairmont, W.V., at Exit 133 off of Interstate 79. The June 9 auction will start at 11 a.m. at the Buxton and Landstreet Building in Thomas, W.V., which is located approximately five miles from the property being offered that day. Registration for both events starts an hour prior to auction time. The properties may be viewed at anytime.
Property details, photos and terms can be found at http://www.RedFieldGroup.com. United Country – The Redfield Group Auctions, Inc., can be contacted at 866-673-9270 or 256-413-0555 for additional information. Information about United Country – Riverbend USA, LLC, can be found at http://www.AldersonWVRealEstate.com.
About United Country
United Country Real Estate is the largest fully integrated network of conventional and auction real estate professionals in the United States and Central America. The company has been an innovator in real estate marketing since 1925. United Country supports nearly 550 offices across the U.S., Costa Rica, Panama and resort areas of Mexico, with a unique, comprehensive marketing program that includes one of the largest portfolios of property marketing websites (more than 3,000 separate sites and traffic of approximately 3 million visitors per month), multiple United Country real estate catalogs with national distribution , an extensive buyer database and national advertising of local properties that reaches more than 90 million homes per week. United Country has recently been recognized by Franchise Business Review, AllBusiness.com, The Land Report, Entrepreneur and The Wall Street Journal as one of the top U.S. real estate companies.