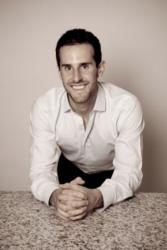 "I'm very excited to be able to share my knowledge and passion for health, wellness, pain management, anti-aging, and weight loss at Clarins events throughout New York City."
New York, NY (PRWEB) May 31, 2012
Dr. Josh Wagner, founder of The Life House in New York, NY, has been named to the Clarins Skin Spa Keynote Speaking Panel, which features a host of health and wellness experts offering special events and in-store presentations at Clarins locations in Manhattan.
"It's a real honor to be included on the Clarins speaking panel," said Wagner, Manhattan's only Torque Release specialist who has also recently authored two eBooks, on nutrition and fibromyalgia." "I'm very excited to be able to share my knowledge and passion for health, wellness, pain management, anti-aging, and weight loss at Clarins events throughout New York City."
Wagner's most recent presentation was "Why You Can't Lose Weight" which was a great success at the Clarins location on Columbus Avenue on Manhattan's Upper West Side.
"Dr. Wagner's dynamic personality, presentation, and passion for health and wellness and unique insights into living a more vibrant, healthy life are a real asset to Clarins and our customers," said Ana Maria Crespo, Skin Spa manager of the Clarins location at 247 Columbus Avenue in Manhattan.
"Dr. Josh really fortifies our customers with his incredible insight into healing chronic pain, cellular rejuvenation, anti-aging, and weight loss," adds Crespo, "and he has already proven he captivates the Clarins audience, and enhances our events with his unique, engaging character and demonstration."
Wagner -- the only Manhattan chiropractor specializing in Torque Release Technique, a drug-free, safe and natural treatment for Fibromyalgia and other chronic pain disorders - recently released his free, downloadable 50-page eBook "Freedom From Fibromyalgia" and a Fibro-focused website drjoshwagner.com to address the widespread misconceptions about the chronic pain condition and help sufferers find relief and healing for their condition. Wagner's eBook "Access: Nutritional Transformation" is also available via The Life House website.
DrJoshWagner.com features informative new videos, updated treatment protocol, research and information, and offers a community forum for people affected by Fibromyalgia, where visitors can go for support and to share their own treatment ideas, success stories, and more.
The Life House Chiropractic also helps individuals and families dealing with other conditions such as high blood pressure, chronic fatigue, anxiety, depression, migraines, attention disorders, and childhood illnesses. With Torque Release chiropractic care, whether it is an acute or chronic condition, your body will get well naturally.
For more information, contact The Life House at 212.876.3286. Also see The Life House on Facebook and Twitter.
About Dr. Josh Wagner:
Wagner is the founder of The Life House Chiropractic, and he was mentored in Torque Release Technique by its founder, Dr. Jay Holder, and graduated from New York University with honors and earned his doctorate in Chiropractic at Life University in Atlanta, Georgia. Wagner is a native New Yorker raised in Chappaqua.
The Life House Chiropractic : 19 East 71st Street, Suite 5a, New York, New York 10021 : 212.876.3286 : info(at)lifehousechiropractic(dot)com.