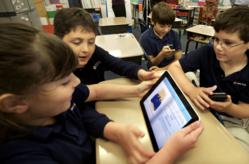 A book app is the perfect marriage. It gets kids into reading, and keeps them entertained by giving them choices.
Fort Lauderdale, FL (PRWEB) May 31, 2012
Brush of Truth, a book app for kids 8-12, is being recognized by children's tech review sites for engaging reluctant readers and exciting tweens about reading. The book app was created by Story Bayou (http://www.storybayou.com).
Written in second person, "your" voice, Brush of Truth lets the user choose how the action unfolds at critical points in the plot. Brush of Truth has 125 pages of story and colorful illustrations, with 65 decision points and 20 possible endings.
Digital Storytime named Brush of Truth to its "Recommended iPad Book Apps for Older & Reluctant Readers Ages 8-12," which has been Tweeted more than 10,000 times. Tecca included Brush of Truth in its "6 Interactive Book Apps to Get Your Kids Excited About Reading." The iGameMom calls Brush of Truth "an effective tool in engaging reluctant readers."
The app is $1.99 and available on iPad, iPod touch, iPhone and Kindle Fire, as well as Android and Windows 7 smartphones and tablets.
Parenting journalist Julie Landry Laviolette, mom of a 10- and 11-year-old, wrote Brush of Truth and created its parent company, Story Bayou.
"In trying to get kids to read, we are working in harmony with technology, instead of competing with it," Laviolette said. "I grew up reading books. Today, kids want to play with a touchscreen. A book app is the perfect marriage. It gets kids into reading, and keeps them entertained by giving them choices."
Brush of Truth tells the story of two tweens who find an enchanted paintbrush. They begin to discover its powers as they go in adventures under the ocean, inside a sand castle, and while rescuing a sea creature.
"Kids love the story, and because it is a full-length book, they can explore it for hours," Laviolette said. "Parents are telling me it's great for car trips, waiting at the doctor's office, and anywhere their kids need to be entertained."
Laviolette, a New Orleans native, is a former columnist and editor for The Times-Picayune. She currently lives in Fort Lauderdale, Fl., where she contributes to The Miami Herald, South Florida Sun-Sentinel, South Florida Parenting and more than 30 regional parenting publications in the U.S. and Canada.
Story Bayou, founded in 2011, partnered with Linxter, Inc., a Cooper City, Fl. software engineering company, to create the mobile app. Brush of Truth was released in February 2012.