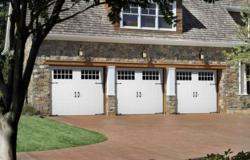 There are green garage options for every budget.
Torrance, CA (PRWEB) May 31, 2012
autoMedia.com—a premier online provider of free do-it-yourself car care and driving advice—presents the 10 best ways to create a clean, green garage that can ultimately lower monthly utility bills, reduce toxins and exposure to household pollutants, yield better storage and organization, and provide a family-friendly "safe zone," according to autoMedia's Top 10 Ideas for an Eco-Friendly Green Garage.
Greening a garage can be done in steps or completed in a single weekend. Begin by clearing out the clutter, taking any excess paint, chemicals and electronics to a local recycling facility, donating old toys and exercise equipment to a good cause, and getting things off the floor. Garage safety should always be a priority. Now add these 10 energy-efficient features for a green, clean car care and storage center:
1. Air-Tight Garage Doors
2. Lockable Tool Chests
3. Eco-Friendly Flooring
4. OSHA-Compliant Oily Waste Cans
5. Wall-Mount Organization Systems
6. Flammable Storage Lockers
7. LED Lighting
8. Weather-Tight Insulation
9. Renewable-Wood Storage Cabinets
10. Hybrid Car, Truck or SUV
"Consumers and homeowners committed to safety, DIY car care, energy efficiency, and the environment can benefit from one or all of these ideas," said Marshall Flemion, president of autoMedia.com. "There are green garage options for every budget."
About autoMedia.com: The auto website was launched in September 2000 by a team of automotive editorial, design, and publishing professionals, with the goal to be the premier provider of quality automotive content on and for the Web. Today it features over 92,500 pages of original articles, including over 2,500 features researched and written by leading automotive experts, covering new and used car buying, new vehicle previews, road test reviews, car care maintenance, professional driving advice, and technology. Automotive enthusiasts and new car shoppers can read about the latest industry news, pricing, rebates and incentives, view photo galleries and research details on all makes and models. For more information visit autoMedia.com.