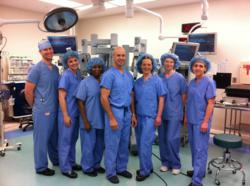 The introduction of the da Vinci surgical system is a game changer with the patients of Trumbull County as the winners. The robotic revolution is here and I am proud to be a part of it, Dr. Anthony DeSalvo
Warren, Ohio (PRWEB) May 31, 2012
The newest in surgical technology for women facing hysterectomy or pelvic prolapse repair is a surgical "robot" that is operated by Dr. Anthony R. DeSalvo a licensed gynecology surgeon. The da Vinci "robot" surgical system allows tiny incisions to be used for surgeries such as hysterectomies, which formerly were more invasive requiring large incisions and an extensive recovery period. With the da Vinci surgical system, female surgeries are done with greater precision and tiny incisions allowing women to return to normal activities much quicker.
The event will be located at The Grand Pavilion at The Magnuson Grand Hotel (the former Avalon Inn) at 9519 E. Market St. in Warren, Ohio 44484. To RSVP for the event please call OBGYN Associates of Warren, Inc. at 330-856-7212. Complimentary wine and hors d'oeuvres will be served.
Dr. DeSalvo received his Medical Degree from Northeastern Ohio Universities College of Medicine and his Bachelor of Science degree from Kent State University. He completed his residency in Obstetrics & Gynecology at Beth Israel Medical Center in New York City. He received several research and clinical awards during his training. A lifelong resident of the Mahoning Valley, Dr. DeSalvo is committed to providing quality health care for women in the community.
For more information about OBGYN Associates of Warren's women's health services or the da Vinci Si System, contact the practice or visit their website at http://www.warren-obgyn.com