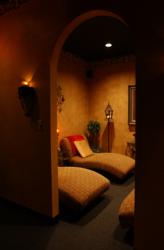 No matter what they or the buyer chooses for them, it is an experience that they won't forget and many end up becoming regular loyal spa clients.
Brandon, FL (PRWEB) May 31, 2012
Father's Day arrives on June 17, 2012 and local day spa owner Jan Jordan of DayDreams Day Spa is hard at work putting together special spa packages. "There is certainly more demand at Mother's Day but we also see a significant amount of gift certificates sold around Father's Day as well." Jan said.
"Many people look for unique Father's Day Gift Ideas for Dad each year and we try to meet that need with special packages as well as standard gift certificates available. We probably won't see too many of the guys gathered around our Manicure Tables but our massage services are highly popular."
She mentioned that she is not sure why more men don't receive manicure and pedicure services since their hands and feet are usually much rougher and in need of maintenance than most women but she certainly encourages it. "Every year we try to push them to try new things. A few take the plunge but many seem to stick with the popular choice of Massage In Brandon & Lakeland FL which is where our two spas are located."
"No matter what they or the buyer chooses for them, it is an experience that they won't forget and many end up becoming regular loyal spa clients. "