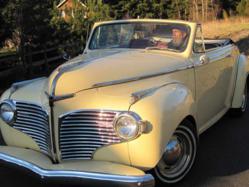 Bellingham, WA (PRWEB) May 31, 2012
Unlike most book tours, Anne and Mike Mikkelsen's July 2012 road trip literally and figuratively will be fueled by their book's central character, a beloved restored 1941 Dodge D-19 Luxury Liner Convertible, on a journey to revisit adventures of love and loss and celebrate transcendence over Parkinson's disease. "The Dodge: Guts, Glory and Living at Full Throttle," is their new memoir that recounts the lifeline forged for Mike over six decades restoring the classic Dodge he discovered at age 17. That love affair is later intertwined with their life story as a couple as they grapple with Parkinson's disease since Mike's diagnosis in 1993, triumphing over the odds.
The quest will fulfill Mike's lifelong dream to showcase The Dodge, over a drive that will take them from home base Bellingham, Washington on July 10, 2012, through Idaho, and to their ultimate destinations in Big Sky Country – Bozeman and Lewistown, Montana. Anne, 67, the chef, and Mike, 78, the artist, will hold readings and signings at public libraries and bookstores, timed with the Lewistown Art Center's historic downtown Art Stomp and Bozeman's monthly Art Walk. The couple will reach out to Parkinson's communities along the way. Eduard Alden "Mike" Mikkelsen, an award-winning potter and sculptor and lifelong auto collector and restoration enthusiast, happens also to be an alum of MSU.
The Dodge has deep roots in Lewistown, Montana, where a 17-year-old Mike drove her after discovering her in a garage in Connecticut. When Mike went off to war, she was abandoned for twenty years, then impossibly resurrected to her original glory.
The couple will tweet @takechargeofpd and post daily along their route, about magical moments as well as mishaps, repairs, and culinary encounters. Anne Cutter Mikkelsen, a French trained chef, Master Gardener, former restaurateur – and carepartner to Mike – also is the author of "Take Charge of Parkinson's Disease: Dynamic Lifestyle Changes to Put You in the Driver's Seat," which shares how the couple has learned to live vibrantly with PD since his diagnosis. The books feature Anne's original recipes and food preparation techniques that focus on brain healthy nutrition and share valuable messages about maintaining optimal health in the face of neurodegenerative disease through re-focused nutrition, exercise, and healthy emotional coping strategies.
Visit http://www.annecuttermikkelsen.com for more information, including these events:
Friday, July 13, 2012, 6-8 PM -- Signing at The Country Bookshelf, 28 West Main Street, Bozeman, Montana, during "Art Walk."
Saturday, July 14, 2012, 2-5 PM, Lewistown, Montana, public library -- Reading during Lewistown Art Center's historic downtown Art Stomp sponsored by KXLO/KLCM.
"The Dodge: Guts, Glory, and Living at Full-Throttle"
By Anne Cutter Mikkelsen and Eduard Alden Mikkelsen
Non-fiction, 264 pages
Paperback ISBN 978-0-983198222; ebook ISBN 978-0-983198215
Willow Island Press (2012)
Available at http://www.annecuttermikkelsen.com and http://www.Amazon.com.
"Take Charge of Parkinson's Disease: Dynamic Lifestye Changes to Put You in the Driver's Seat"
Named to "Top 20" List of Small Press Titles Most in Demand from Libraries and Bookstores (Library Journal, March 1, 2012).
By Anne Cutter Mikkelsen and Carolyn Stinson
ISBN 13: 978-0-9823219-3-5
A DiaMedica Publishing Guide to Optimum Wellness (2011)
Available at http://www.annecuttermikkelsen.com