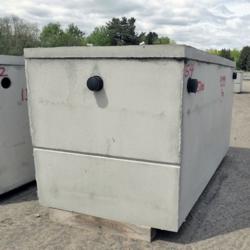 To see Shea take this initiative on their own, to install these boots on all their (residential) products, is a testament to their desire to promote products that are advantageous to our industry
Amesbury, MA (PRWEB) May 31, 2012
Shea Concrete, one of the largest precast concrete manufacturers in New England, has upgraded its residential septic tanks by adding rubber boots for inlet and outlet pipes. These boots create a more positive watertight seal between the tank and the pipes, which is essential if deflection or movement occurs during installation or settlement.
"The boots are physically bound into the septic tank structure," explained Dave DeRose, production manager of Shea Concrete's Amesbury plant. "It's a rubber sleeve that's cast into the concrete. It creates a watertight seal between the rubber and the concrete."
The rubber boots also give flexibility to the area connecting the tank and pipes so that it can be slightly maneuvered without causing damage. "The rubber will flex with the connection point, whereas it would not with the standard design most precast companies use," DeRose said.
This flexibility is beneficial because it makes the tanks easier for contractors to install. "The standard septic design is more passive and can require a contractor to hydraulic cement the pipe connection to maintain watertightness," said Greg Stratis, manager of Shea Concrete's Amesbury facility. "In addition, the hydraulic seal can crack and does not adhere well to the PVC pipe," he said.
Dave Clark of D.F. Clark, Inc. in Ipswich, MA, a long-time Shea Concrete customer, said he regularly sees problems with the connection of pipe and concrete. "What we discovered is that we would cement all the pipes into the septic tanks, only to find that the bond between the hydraulic cement and the outside of the pipe and the tank would tend to break because of settlement or during the backfilling process." He explained that as a result, rainwater would leak into the septic system, causing the leech field to fail well before its time.
Shea Concrete has now become an area leader by incorporating boots into all its residential tanks. "To see Shea Concrete take this initiative to install these boots on all their (residential) products, is a testament to their desire to promote products that are advantageous to our industry," said Clark.
Stratis said that rubber boots can be added to any of Shea's commercial septic tanks upon request. "In the future, we may provide this as standard on our commercial tanks," he concluded.
About Shea Concrete
Family-owned and operated since 1949, Shea Concrete is one of New England's largest suppliers of precast concrete products, serving both commercial and residential industries. As a National Precast Concrete Association (NPCA)-certified company, Shea Concrete's manufacturing plants consistently operate at the highest standards of production and quality control. Shea Concrete produces environmentally safe concrete products, including sewage and drainage systems, barriers and curbs, utility structures and Shea block retaining walls. Other precast concrete products include bulkhead, side entry and standard steps. Serving all of New England, Shea Concrete is headquartered in Wilmington, Massachusetts, with additional locations in Rochester, Massachusetts, Amesbury, Massachusetts and Nottingham, New Hampshire. For more information, please visit http://www.SheaConcrete.com.