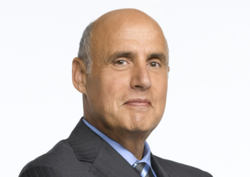 Jeffrey's frank approach is as enlightening as it is entertaining. We've received numerous accounts of changed lives and rekindled dreams.*
Boston, MA (PRWEB) May 31, 2012
Iconic actor Jeffrey Tambor, known for his roles in 'Arrested Development,' 'The Larry Sanders Show,' and 'The Hangover,' is available for speaking engagements through the Boston-based American Program Bureau, a global speakers bureau that represents such actors and comedians as Jon Stewart, Carol Leifer, Ellen DeGeneres, and Jane Seymour.
Tambor plans to speak to corporate and college audiences throughout the coming year on the topic of "Arrested Development: What's Keeping You from Performing Your Life?', a lively, humorous presentation drawing on themes of creativity, authenticity, and self-awareness. Tambor, who is also a Master Teacher of actors, crafts a message that provides audiences with access to the imagination, liberates their talent and desire, and encourages them to connect with their innermost selves.
Organizations who are interested in bringing keynote Jeffrey Tambor to speak at their next event should contact the American Program Bureau at 800-225-4575.
About the American Program Bureau (APB):
In business since 1965, the American Program Bureau represents a roster of high-profile speakers from entertainers and politicians to thought leaders and academics. Learn more about APB at APBSpeakers.com or find APB on Twitter @apbspeakers.
*Feedback from Jeffrey Tambor's presentation at the South by Southwest Film Conference & Festival.