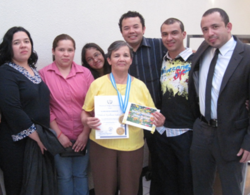 We are so proud of Doña Elvirita and happy about her well-deserved recognition. She is a hardworking woman and an exemplary employee with scrupulous professional integrity.
Guatemala (PRWEB) May 30, 2012
Elvira Reyes, 60 years old and a valued employee for fifteen years, was recognized with an award for her dedication to her maintenance job at Frutera.
She always arrives to work early, gets the coffee brewing, and then sets about to her cleaning job. She has a very cheerful disposition and is always willing to help out wherever she is needed. "Doña Elvira" especially enjoys attending to corporate visitors and has an extremely positive attitude toward her job.
These qualities and many others were the reason Elvira Reyes was awarded the "Order of Excellence in Labor" by Guatemala's Ministry of Labor. This award is given every year on International Women's Day to 17 women who have distinguished themselves in the commercial, agricultural, industrial, government and service sectors of the economy.
The corporate director of human resources for Frutera, Bernardo Roehrs, expressed his enthusiasm for the recognition of company employee, Elvira Reyes, by the Ministry of Labor. "We are so proud of Doña Elvirita and happy about her well-deserved recognition. She is a hardworking woman and an exemplary employee with scrupulous professional integrity."
About Frutera:
FRUTERA is worldwide recognized for the high quality of its banana production; uses the highest technology in agricultural practices to guarantee an excellent final product.
For more information vist: http://www.frutera.net/eng/index.php