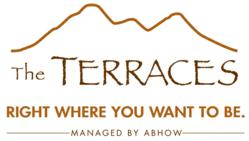 With more than 40 virtual tours and riding challenges, CyberCycle offers riders variety so each session is different.
Phoenix, AZ (PRWEB) May 30, 2012
The Terraces of Phoenix recently became the first senior living community in Arizona to offer residents the Expresso CyberCycle. The CyberCycle is an innovative virtual-reality enhanced exercise bike that has been proven to be more beneficial to the overall wellness of seniors than a traditional stationary bike. According to a study conducted by The American Journal of Preventative Medicine, older adults who used the CyberCycle two to three times per week for three months "experienced a 23 percent reduction in progression of mild cognitive impairment compared to traditional exercisers."
"The CyberCycle works on two fronts," said Tom Dorough, executive director of The Terraces. "First, its video game-like format presents a varied and challenging exercise program that's more fun and mentally stimulating than a normal workout. Second, it engages the rider, which promotes longer sessions for greater benefits. It's quickly become our most popular workout in our fitness center."
With more than 40 virtual tours and riding challenges, CyberCycle offers riders variety so each session is different. Individuals view their choice of virtual courses and competitors on a 19" HD monitor. CyberCycle tracks comprehensive records and metrics for riders, which can be accessed via the Internet.
The addition of the CyberCycle enhances The Terraces' Masterpiece Living® wellness initiative that was developed in partnership with the Mayo Clinic, and promotes residents' personal goals for physical, intellectual, spiritual and social fulfillment. The Terraces offers numerous activities, including exercise classes, brain fitness and continuing education, as well as a number of other regular recreational and social opportunities to stimulate body, mind and spirit.
The Terraces of Phoenix offers a maintenance-free lifestyle for older adults, with a selection of 217 residential living residences. In addition, The Terraces provides residents a full continuum of on-site health care, if ever needed. For more information about The Terraces, visit http://www.TheTerracesPhoenix.com, or call 1-800-606-7619.
The Terraces is managed by ABHOW, a California nonprofit public benefit corporation. ABHOW is a nonsectarian corporation, serving seniors through quality retirement housing since 1949. ABHOW seeks to enhance the well-being and security of seniors through the provision of housing, health care and supportive services, and was a pioneer in the development of continuing care retirement communities (CCRCs). For more information about ABHOW, visit http://www.ABHOW.com.