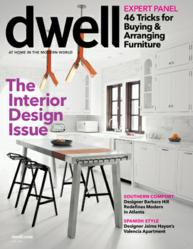 New York, NY (PRWEB) May 31, 2012
Dwell Magazine is pleased to announce their first foray into interiors, looking at modern design from inside the envelope. While Dwell has long featured the fixtures and furnishings that help complete a truly modern home, this is the first issue completely dedicated the people and ideas that bring our favorite architecture to life. From furniture makers to interior designers, the issue aims to inspire both the design enthusiast as well as the design professional.
ISSUE HIGHLIGHTS
In Living Color: Exclusive Q&A with architect and MoMA curator Pedro Gadanho and a first look at his newest project in Almada, Portugal.
Hotel Registry: Dwell launches a new column in the magazine this month. "Hotel Registry" highlights forward-thinking design in the hospitality sector. Rather than serve as an announcement of the newest resorts and hotels, this regular feature will shine a spotlight on under-the-radar gems tried and tested by Dwell editors. The column originated online courtesy of Dwell Editor Jaime Gillin, former editor at Travel & Leisure. The inaugural Hotel Registry shares the story of Hotel Lautner in Desert Hot Springs, California. After four years of extensive renovations by interior designer Tracy Beckmann and her business partner, furniture designer Ryan Trowbridge, the hotel reopened last September to great reception. Lautner's own daughters were among the first guests and gave it their seal of approval.
The Real Cost of Rip-Offs: Dwell delves into the world of piracy in this illuminating article which includes insights and interview with over 50 furniture designers, copyright attorneys, manufacturers, and legacy license owners. The article explores the unauthorized manufacturing of replicas, and opens up a conversation from the designers' perspective. This exchange will continue with a panel of experts at Dwell on Design (http://dod.dwell.com/) in June.
My House: Dwell visits the apartment of superstar designer Jaime Hayon, known for his collaboration with Fritz Hansen, Se´, and Baccarat. His apartment in Valencia, Spain, holds many of his own creations and acts as a live-work space for the sough-after designer and his family. With photography by his wife, photographer Nienke Klunder, Dwell enters Jaime's fanciful world as he offers a personal tour of his home and shares some of his personal decorating tips.
Georgia Peach: Texas-based designer Barbara Hill's transformed a traditional 1920's Atlanta home into a high-design dwelling for a family of four, epitomizing Dwell's perspective that any home can be "modern on the inside". With her rich background in art and design, which has taken Hill from Warhol's Studio to Marfa, Texas, Hill reinvents a Mediterranean-style house into a modern enclave through avant-garde art, industrial pieces and her polished take on minimalism.
Man Up: Dwell's guide to the best in masculine design. This 8-page spread takes us from the modern bachelor pad to advice on designing small spaces with a man's touch. No more Barcalounger, no more "man cave", no more excuses.
FOR IMAGES OR INFORMATION CONTACT ALEX(at)DWELL(dot)COM
About DWELL MEDIA, LLC: Dwell Media is the parent company of Dwell magazine, Dwell Digital + Mobile, Dwell on Design events, and the Dwell Homes Collection. Founded in 2000 by Lara Deam, Dwell has received countless industry awards and is widely regarded as a leading voice in the modern design movement. Championing a philosophy that is idea-driven and sensitive to social and physical surroundings, its enduring passion for design leads a passionate community of design-seekers to be "At Home in the Modern World."