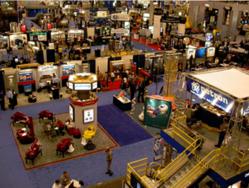 Houston, TX (PRWEB) May 30, 2012
AmCon has been producing quality manufacturing trade shows since 1987, and AFT Fasteners will be at Reliant Center June 6-7 to meet with some of Houston's top manufacturing engineers and product developers. AmCon trade shows and expos are the perfect opportunity for designers and engineers to locate sources for forming, fabrication, machining, engineering, prototyping, finishing, assembly and electronic manufacturing. AFT Fasteners and Industrial Solutions will be featuring industry name brand products such as Kipp Adjustable Handles & Components, Power Fasteners and Martin Industrial Hand Tools, to name a few. AFT looks forward to discussing these and other great products and services at Booth 301, Hall E in the Reliant Center.
The show schedule is Wednesday June 6, 9:30am - 4:00pm and Thursday June 7, 9:30am - 3:00pm. For information about directions, free parking and free admission please visit the AFT Blogsite for links and more information. Attendees to the AmCon Expo will enjoy the ability to compare current suppliers pricing, quality and availability. AmCon is also the perfect opportunity to get professional help with difficult design and production problems. Several free seminars will cover such topics as: Power of Persuasion, Objet 3D Printing, How to Maximize the Benefits of your ISO Cert, and Negotiating Do's and Don't's.
AFT Fasteners is a fastener manufacturing, importing, distribution, plating and industrial services company "All-in-One", offering turn-key cost effective solutions to our customers. AFT also supplies high-quality standard, non-standard and specialty fasteners and hardware products. AFT serves customers with sales and distribution centers in Texas as well as throughout the United States, and this allows them to provide expedited industrial tools, services and parts. Please contact AFT's professional sales staff at info(at)aft-corp(dot)com or call (877) 844-8595 for information on how AFT Fasteners can provide your business with the solutions it needs to succeed.