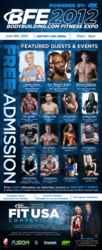 "The BFE just keeps getting bigger and better every year! When Bodybuilding.com throws an event they pull out all the stops," - Bodybuilding.com Spokesperson, Jamie Eason.
Boise, ID (PRWEB) May 30, 2012
Top UFC stars lead the pack of fitness celebrities at the 11th annual Bodybuilding.com Fitness Expo (BFE). Light heavyweight champion Jon "Bones" Jones, number four middleweight in the world Michael Bisping, and former lightweight champion Frankie Edgar will be drawing in the fans at the Northwest's largest, free health and fitness expo.
Bodybuilding.com, the Internet's most-visited bodybuilding and fitness site and largest online retailer of nutritional supplements, and Optimum Nutrition, one of the world's most trusted performance nutrition brands, will be holding the action packed BFE on Saturday, June 9, 2012 from 10:00am to 4:00pm at the Century Link Arena in Boise, Idaho. The FIT USA Show Powered by MusclePharm will take place after the BFE at 7:00pm (cocktail hour starts at 6:00pm) at the historic Egyptian Theatre. The crowd will watch as the nation's top 20 men and women battle it out for the title of "The USA's Fittest Body". There will also be a special performance by the internationally acclaimed American Acrobats.
This year Bodybuilding.com has partnered with The Idaho Foodbank in order to help provide nutritious, healthy food to those in need. All those who bring a healthy canned food item to the BFE will receive a free Bodybuilding.com Mesh Workout Bag. One lucky guest will take home a workout bag stuffed with a $100 gift card to Bodybuilding.com. Plus, all ticket proceeds from the BFE's official evening event, The FIT USA Show, will go directly towards The Idaho Foodbank.
In addition to the top UFC stars, the BFE will be featuring: Jamie Eason (one of the most recognized faces in the fitness industry, appearing on countless magazine covers around the world); Mike O'Hearn (real life superhero best known as Titan from NBC's "American Gladiators"); Ashley Conrad (A-list celebrity trainer and global boxing trainer for Adidas); NFL favorites Mark Megna and Doug Martin; industry experts Rich Gaspari, Tom Fuller and Layne Norton; Pro Bodybuilders Flex Wheeler, Andy Haman, and Ben Pakulski; Strongmen Brian Shaw, Grant Higa and Corey St. Clair; IFBB Figure and Bikini Pros Jessica Paxon, Alicia Harris and Nicole Nagrani; plus many more surprise guests.
There will be plenty of action and things to do with Gaspari's Grapplers Quest, Dymatize's CrossFit Competition, Military Contests, Strong Man Exhibitions, Sundae Marshall's Bikini Fashion Show, the annual Mr. Puniverse Competition (where being puny is in), as well as other entertaining acts. There is something for everyone!
Make sure to grab samples of the newest supplements provided by over 50 different manufacturers including: Optimum, MusclePharm, Gaspari, MuscleTech, Dymatize, BSN, Ultimate Nutrition, Scivation, VPX Sports, Universal, Cytosport, Twinlab, Champion Nutrition, MRM and others. Not to mention, the first 5,000 people in the door will receive an official 2012 BFE T-shirt.
"The BFE just keeps getting bigger and better every year! When Bodybuilding.com throws an event they pull out all the stops," - Bodybuilding.com Spokesperson, Jamie Eason.
For more information, please go to http://www.Bodybuilding.com/BFE.
Bodybuilding.com offers more than 13,000 health & fitness supplements and accessories to help more than 13 million people every month achieve their health, fitness and appearance goals, as well as over 35,000 pages of free information, including more than 20,000 articles and videos, expert online trainers, and new content added daily.