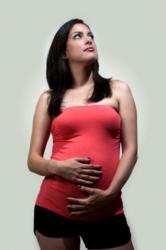 One of my favorite things to buy during pregnancy...pretty shoes. Keeping accessories in mind while I went shopping kept me from feeling self-conscious about my changing body that I had no control of anyway.
Buffalo (PRWEB) May 31, 2012
Pregnant women are beautiful but their self image can take a hit because of all the changes that are taking place in their bodies. Instead of focusing on what they don't have (a flat tummy), a pregnant woman should focus on what she does have. Human nature tends to gravitate on the negative instead of the positive attributes. Baby Riddle offers 5 tips on how women can maximize the beauty of their pregnancy.
Pregnant women have a beautiful glow and energy about them. Their hair, nails and skin are amazing. Below are 5 tips to maximize what a pregnant woman already has going for her.
1. Accessories: Purchasing non-maternity clothes during pregnancy can be depressing. Baby Riddle recommends focusing on accessories. Jewelry, shoes and purses are a great buy for pregnant women. Tamatha Grabin, Managing Partner of Baby Riddle says, "One of my favorite things to buy during pregnancy...pretty shoes. Keeping accessories in mind while I went shopping kept me from feeling self-conscious about my changing body that I had no control of anyway."
2. Focus on your skin: Pregnant mom's already have a glow that is so beautiful. Hydrate and exfoliate the skin, this will rev up what it already working for the expectant mother. Eat plenty of fruits and vegetables which are loaded with vitamins that are good for the skin and for the little miracle inside. Drinking lots of water keeps the skin hydrated and fresh.
3. Pretty Fingers and Toes: During pregnancy nails thicken and grow quickly. A known fact that when the toes and fingernails are polished it enhances a woman's self image. Even when lounging around in pajamas with no makeup on, a woman feels beautiful when her nails are polished and groomed. A pedicure defiantly becomes a necessity when a pregnant woman can't reach her toes anymore.
4. Gorgeous Hair and Makeup: Hair is an amazing accessory. Most pregnant women's hair grows quickly, thickens and becomes shinier. Maximize this season by taking the time to style the hair. Studies show that women who take the time to style their hair feel beautiful. It does not have to be complicated and can take as little as 2 minutes. Brushing, adding a little texture and shine can do wonders for the hair. By adding a little make-up, like mascara, blush and lip gloss can be an instant boost. Grooming the eyebrows will give the eyes a beautiful frame for the shiny pregnant eyes that are already glowing.
5. Maternity Clothes: Invest in maternity clothes. This is a beautiful and special time in a pregnant woman's life. Many women say that buying maternity clothes can be a waste of money. A pregnant women can be resourceful and buy some items that make her feel beautiful. With so many options of maternity clothes available today women can dress beautifully without breaking the bank. One does not have to replace their whole wardrobe but they can modestly purchase clothing to make their growing belly comfortable and beautiful.
Pregnant women should focus on all the positive changes that is occurring in their bodies and relish the season that they are in. They are after all creating a new life, a miracle to be exact.
Do not forget the most important beauty is inner beauty. Pregnant mothers should take time to rest and should not feel like they have to conquer the world at this season in their life. Being peaceful and a well balanced person emotionally, physically and spiritually can reflect an inner beauty that is radiant and beautiful in itself.
Baby Riddle has created a pregnancy manifesto video on their website to uplift any pregnant mother's spirit and let her see the beautiful miracle she is creating.
About Baby Riddle:
Baby Riddle was founded by a registered nurse and an entrepreneur. The nationwide online company is based in the United States. The company carries extremely cute baby clothes and also has a great service for women who are keeping their baby's gender a surprise. Baby Riddle created a solution to keep the baby's gender a surprise: Have an unbiased third party send the gender-specific clothes right at the baby's due date.
Find out more by visiting Baby Riddle:
Phone: 866.927.2524 | http://babyriddle.com | Facebook http://www.facebook.com | Amazon Storefront: http://www.amazon.com/shops/babyriddle