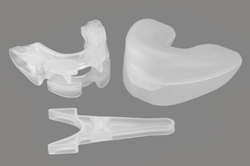 New York, NY (PRWEB) May 30, 2012
While it's true men are often the culprits when it comes to snoring, they're not the only ones who snore. Women can snore as well, making bedtime less restful for their partners. In fact, the difference between the sexes and who really snores isn't as wide as you might think. According to the National Sleep Foundation's Sleep in America Poll they showed that, although males were more likely than females to snore a few nights a week, the difference was only 42% male to 31% female. This news was enlightening to David Hernandez, the co-creator of VitalSleep snoring solution.
"When people mention snorers, many automatically think of men," he said. "While it is true that men are reported to snore more often than women, the fact is women are reported to snore only 10% less than men. That means that for every man out there that snores, there might be a lady next to him who's snoring too, so why not provide two as a 'his and hers' snoring mouthpiece?
So that's what VitalSleep has recently done. In order to meet the demand for couples that snore, they will soon be offering VitalSleep dental device in 2 sizes. This FDA cleared, fully customizable, anti-snoring intra-oral appliance has retailed for under $50, which far less expensive than similar types of anti-snoring devices. Plus, unlike some other anti-snoring devices, VitalSleep offers a 1-year warranty that covers free replacements, if needed. Look for the new size available in August of 2012.
But what exactly is VitalSleep?
Hernandez explains, "VitalSleep is similar to some anti-snoring products that are made of a flexible material since it molds to the shape of the mouth. However, what makes this device so unique is it's adjustable to suit the severity of snoring, rather than being a 'one size fits all'. So, if we have a couple that snores, and if the man snores a bit more harder, his appliance can be adjusted to fit his level, and his partner can do the same."
In essence, the device opens the airway more with the ability to modify how far forward the lower jaw is positioned. Again, VitalSleep is different from a number of cost-effective snoring devices because those other appliances lack this important 'adjustable lower jaw' feature. Without it, it makes the device either uncomfortable or less effective.
Today, it's not just individuals who find VitalSleep useful though. A growing number of dentists and doctors are supplying them to their patient as a cost-effective relief from snoring that might otherwise go untreated. So, when it comes to better rest (and possibly a better marriage) then VitalSleep might be the answer for everyone in the household.
Learn more about this innovative anti-snoring mouthpiece and their recent specials by visiting http://www.VitalSleep.com.