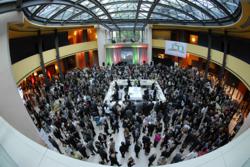 The Festa della Repubblica will be celebrated with some of Italy's finest wines at the Italian Embassy in Washington, supported by the Vinitaly Wine List
Washington, D.C. (PRWEB) May 30, 2012
This year's Italian Festa della Repubblica (2nd of June) will be celebrated with some of Italy's finest wines on June 4th at the Italian Embassy in Washington, supported by the Vinitaly Wine List. The day that commemorates the institutional referendum from 1946, which led to the formation of the first Italian government, will see the Embassy opening its doors to many notables of the political, economic, scientific and cultural life of the United States and many representatives of both the Italian and Italian-American communities.
Last year's 150 years' unification celebration at the Italian Embassy in Washington drew some 1700 guests that enjoyed Italy's fine wines, with this year's 66th anniversary of the Italian Republic planning to do the same.
The event will also be an occasion to recall the strong standing of Italian wines in the US market. According to ISMA (Istituto di Servizi per il Mercato Agricolo) the USA imported 31 million cases (2,85 million hl) or 28% of all wine from Italy in 2011, which represents a 15,1% increase to 2010. The data also shows that Italy is in terms of value also the largest country to export wine to the US, namely 31% or 1.1 billion €. The sparkling wine category is still dominated by France worth some US$ 516 million and 34% of market share, followed by Italy (19%) and Australia (13%).
This success of Italian wine is also due to activities such as these of Veronafiere and Vinitaly in the World. Giovanni Mantovani, Veronafiere's Ceo says he has a "15-year long experience in organising events, workshops and international tours, which since its beginning had been focused on the food and beverage sector in the US market. We have created new formats thanks to the enterprises' trust that work with us. Year by year, we have grown an international platform for promotion and trade in the wine sector, and we are glad to be able to apply our expertise for such special events as the Festa della Repubblica. Veronafiere is considered now an important partner of the Italian government and other national institutions regarding the development of the European Union's projects and guidelines."
Italian wine producers such as Marchesi Antinori, Barboursville Vineyards, Biondi Santi, Bolla, Ca' Bianca, Cantine Ferrari, Cantine Melini, Casa Vinicola Zonin, Castello Banfi Castello Monaci, Cavicchioli, Fontana Candida, Nino Negri, Rapitalà or Tenuta Formentini that have vested interests in the world's most important wine market shall present their wines to selected guests.
According to Francesco Zonin, President of Zonin USA, "Italian wine has gained an important and prominent position in the world. Especially in the USA, Italian wine is seen as a symbol of the tradition, culture, art and industriousness of our people. We are therefore very proud of the success of Casa Vinicola Zonin, the family estates and the estate Barboursville Vineyards in Virginia in the North-American market. This appreciation for the excellence of our prestigious Italian wine-growing areas that had been built with the commitment and passion of so many is very satisfying. Our wine is thus a perfect drink to celebrate the Festa della Repubbica in the spirit of friendship, shared values and love for our land."
Also Cristina Mariani-May, family proprietor of Castello Banfi, notes the special relationship between the USA and Italy: "America has been involved in a long lasting love affair with Italian wine. Italian wines have been faithful to America, responding with flavor, value and charm. It is a mutual attraction, and the reason that the Festa della Repubblica is such a joyous occasion. We're celebrating a very strong relationship that has a bright future."
Albiera Antinori, Vice President of Marchesi Antinori, is "very happy to participate in the Festa della Repubblica 2012. For this special occasion we are donating two of our most representative and historic wines: the Marchese Antinori Chianti Classico DOCG Riserva 2007 and the Villa Antinori Bianco Toscana IGT 2011."
The event is also a prelude to July 19th when the US Congressional Wine Caucus will convene with Italian wine producers Cristina Mariani-May from Castello Banfi, representatives of Casa Vinicola Zonin among others to discuss the future of Italian wine in the US.
The Congressional Wine Caucus was established in 1999 by George Radanovich (R-Fresno) and Mike Thompson (D-St. Helena) in order to protect the interests of the wine industry and educate on federal regulatory and legislative developments. The Caucus brings together more than 200 Members of Congress representing all 50 states, and is chaired by Congressman Thompson and Congressman Lungren (R-Gold River).
The wine industry contributes an estimated $162 billion to the US economy annually and provides the equivalent of 1.1 million full-time jobs in the United States. US Wine exports in particular have experienced significant growth, with a record $1.14 billion in winery revenues in 2010.
About Vinitaly
Veronafiere is the leading organizer of trade shows in Italy including Vinitaly, the largest wine event in the world. In 2012, over 4200 exhibitors showcased their wines to 140,000+ visitors (35% from outside of Italy representing over 120 countries). Veronafiere created the Vinitaly World Tour http://www.vinitalytour.com in 1998 to develop an international platform for the promotion of companies in the Italian wine and food sectors. The latest development saw Vinitaly aiming at increasing Italian wine sales in China as it reinforced its partnership with the Hong Kong Trade Development Council (HKTDC), which organizes Asia's leading wine fair Hong Kong International Wine & Spirits Fair.
# # #