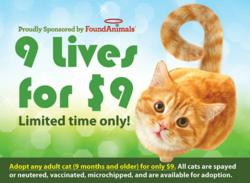 We want to let people know that adult cats are just as great as kittens.
(PRWEB) May 30, 2012
The Found Animals Foundation, a non-profit animal welfare organization, announced the "9 Lives for $9" cat adoption promotion. Any cat older than nine months can be adopted for just $9 at fourteen participating Los Angeles shelter locations starting June 1st.
Sites partaking in the promotion:

Los Angeles Animal Services at West Valley, East Valley, North Central, South Los Angeles, West Los Angeles and Harbor shelters.
Los Angeles Department of Animal Care and Controllocations in Lancaster, Castaic, Agoura, Baldwin Park, Downey and Carson.
Southeast Area Animal Control Authority (SEAACA) and Found Animals Cat Adoption Center in Downey.
Found Animals' Adopt & Shop in Lakewood.
The $9 adoption fee for adult cats includes spay or neuter, microchip and vaccinations.
"We want to let people know that adult cats are just as great as kittens," says Jennifer Pimentel, Program Manager at Found Animals Cat Adoption Center. "Adult cats are already trained to use the litter box and require much less supervision than a kitten." Pimentel continues, "Given time in a loving environment, an adult cat forms just as strong a bond with a new family as a kitten, and they are much less likely to be destructive or keep you up at night."
The promotion follows several successful 2011 promotions implemented by Found Animals, which resulted in finding forever homes for nearly 4,000 cats. This year the promotion has been targeted to save adult cats, which currently have the highest kill rate of all shelter animals.
"Shelters are overrun with kittens this time of year, which means that adult cats are often overlooked," says Dr. Mark Thompson, Retail District Manager for Found Animals Adopt and Shop, "While kittens can be a 'wild card' in many ways, with adult cats you know what you're getting as far as activity level, sociability and health." Thompson continues, "An adult cat's main goal is just to be loved."
For detailed information regarding the "9 Lives for $9" cat adoption, people may visit http://www.foundanimals.org/pet-adoption/9Lives.
About Found Animals
Found Animals Foundation is a privately-funded Los Angeles-based non-profit organization dedicated to animal welfare issues. Led by business and medical professionals, the Foundation works directly within the animal welfare community to reduce the use of euthanasia in shelters by supporting programs including: pet adoption, spay/neuter services, pet identification, and sterilization research.
###